January 13, 2009
Ryan Droste
Saturday Night's Alright
It's time to be served another Double Shot, are you ready?
First things first, I just finished watching Monday's edition of Monday Night RAW and I must say I was fairly impressed. That was one of the better shows I've seen the WWE put on in quite time. I only caught the closing few minutes of the Stephanie/Jericho opening, but what I saw was well done. I absolutely love the storyline they have going on between Shawna Michaels and JBL, and it gives me a reason to tune in every week. I was thrilled to see they gave Michaels and Cena nearly 20 minutes to put on a memorable main event, and I have to give both men credit. It was a hell of a match. It's no secret I haven't been real fond of the WWE product as of late, but matches like this one always bring me back to why there's always a reason to tune in Monday nights. A classic like this one just may take place. I would rate the match close to ****. Definitely check it out if you didn't catch it.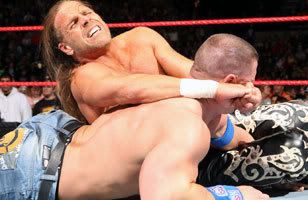 Now on to this columns' subject. This topic comes to us care of Steve in Grand Rapids, Michigan. Here's the email:
"Ryan: What is your opinion on the upcoming Best of Saturday Night's Main Event DVD? How did they do, match selection wise?"
Steve, I've got to say that the WWE seems to have hit it out of the bar park on this upcoming release. Now, the jury is still out until the actual DVD is released (February 10th) and in my DVD player, but from the looks of the match selection it is a must have for any wrestling fan. For a full match listing of the DVD, click here. I will just break down some of the highlights.
First of all, I was pleasantly surprised to see the WWE include so much "Macho Man" Randy Savage content. As some may remember, a 3 disc "Best of Macho Man" appeared on the upcoming WWE DVD release calendar a little over a year ago. This was apparently just a prospective list, with nothing set in stone. It was said that when Vince McMahon saw the list, he personally axed the Macho Man DVD. For whatever reason, and there are more rumors on this than there are paint colors on Jeff Hardy's body, Vince seems to hate Savage and usually tries to downplay anything significant he did for the company. It seems to be one of Vince's last big grudges, as nearly everyone that was on Vince's bad side for a long period of time has made nice with Vince. It's a no brainer that a Savage DVD would sell big time, as the guy was one of the top 5 biggest stars in the 1980s WWF. But it seems like us clamoring for a 3 disc set full of Macho Madness will have to wait. However, this upcoming Best of Saturday Night's Main Event set gives all Savage fans a little bit of hope. Yes, Mr. Randy Poffo himself even appears on the cover.
The following Savage content is present on the DVD set:
WWE Intercontinental Championship Match
Macho Man Randy Savage vs. Jake the Snake Roberts
Saturday Nights Main Event November 29, 1986
WWE Intercontinental Championship Match
Honky Tonk Man vs. Macho Man Randy Savage
Saturday Nights Main Event October 3, 1987
Mega Power Formation
Saturday Nights Main Event October 3, 1987
The Union of the Mega Powers
Macho Man Randy Savage vs. Bret Hart
Saturday Nights Main Event November 28, 1987
Macho Man Randy Savage vs. Million Dollar Man Ted Dibiase
Saturday Nights Main Event March 12, 1988
Macho Man Randy Savage vs. Andre the Giant
Saturday Nights Main Event November 26, 1988
Twin Towers vs. Mega Powers
Main Event February 3, 1989
That's quite a bit, considering just a couple years ago the WWE compoletely left Savage off their "Greatest Superstars of the 80s" DVD. As far as the rest of the DVD goes, there are all kinds of highlights. Some of the matches and segments that stick out most to me are: Hogan vs. Bob Orton (from what I believe was the first edition of the show) from May 1985, Roddy Piper vs. Paul Orndorf from October 1985, Hogan vs. Terry Funk from January 1986, Jake Roberts vs. Ricky Steamboat (Snake Pit Match) from October 1986, Hart Foundation vs. British Bulldogs (2 out of 3 falls match) from May 1987, Hogan vs. Andre from February 1988 (the famous match with the referee swerve), and the Rockers vs. the Brain Busters from November 1989.
And that's just the most famous matches that stick out to me when looking at the listings for the 3 DVDs. Make sure to check out the link back above for the full listings.
Unfortunately, I'm going to have to cut this edition of the Double Shot a bit short. Typically I plan on getting to at least 2 or 3 emails in each column, and I'll make up for the length of this column by getting the next edition of the column out within the next couple of days instead of waiting the typical week or so. I'm about to appear with Adam Martin on Wrestling News Live (www.wnlradio.com) to discuss "The Wrestler", which won 2 Golden Globes Sunday night (Best Actor, Mickey Rourke; Best Song, Bruce Springsteen), so I have to get ready for that. In the column last week, I mentioned that we were trying to get a certain wrestler who attended the premiere of the movie to discuss the film with us this week on Wrestling News Live. That man was "The Fallen Angel" Christopher Daniels. Unfortunately, he will not be able to join us this week due to a scheduling conflict, but it should be a lively segment anyway. If you don't catch the show live, you can check out the archived version at www.wnlradio.com My segment discussing "The Wrestler" will be roughly 1 hour and 10 minutes into the show.
By the way, another great historical DVD comes out this week. It's "The Best of Starrcade", a 3 DVD set released by WWE. I will be posting a review of that in the next edition of Droste's Double Shot, so make sure to stay tuned for that. And as always, send your emails to Droste@wrestleview.com with your questions and comments, and to give me a topic for the next column. As seen above, I am completely letting the readers dictate the direction of each edition of this column. See ya next time!