February 17, 2009
Ryan Droste
The Granddaddy of them All
FINALLY, it's time for another edition of the Double Shot. I'd like to first of all take the time to apologize for how long it has taken to get this column up. I initially wrote a portion of this column in late January. The reason for the delay was I recently helped someone move and it took a very long time to get done. So the Double Shot got pushed to the back for a couple weeks, but I'm now back and things should get back to a regular pace. I will try to knock a few columns out quickly to catch up to the pace I should be at. This is column #3, and I should be at 5 or 6 by now so I apologize.
At the end of the last column I promised a review of the "new" Starrcade DVD set. Well, that set has now been out for almost a month, but I'd like to offer up a few brief thoughts since that was the subject I got most of the emails on after the last column.
First off, the documentary portion of the DVD. This was fairly well put together, clocking in just under an hour in length. Makes for an easy viewing in one sitting. This has it's positives and negatives. The positive is you can get home from work, pop in the disc, and finish it before supper time without having to set aside a few hours of your time. The negatives are that they could have done SO much more than they did. I'm one of those fans that would have loved a 2 hour documentary on the WCW's flagship PPV, but I'm guessing the WWE figured that it was a small portion of their fan base that actually watched WCW back in the day, so why make a two hour documentary that nobody is going to sit through. Well, they guessed wrong on this, as this set has sold tremendously. It has been #1 on Billboard's Sports and Recreation DVD list for multiple weeks now. Hopefully this will pave the way for more exclusively NWA/WCW DVD sets in the future. Who wouldn't love a "Best of Halloween Havoc" 3 disc set?
The documentary does an awesome job in chronicling the 1980s, specifically the event's inception in 1983. It does it's job in making the viewer want to hunt down those old events in full. I realize you're probably going to have to either pay rape prices on eBay or trade tapes to do so (hint, Starrcade box set WWE, do it) but that's beside the point. It's fun to hear the old timers recalling the early days of Starrcade. And alot of the key players are present on the disc, including Flair, David Crockett, Jim Ross, Michael Hayes, Harley Race, Dusty Rhodes, Road Warrior Animal, and Jim Cornette.
One problem with the documentary portion of the set is that, I'm guessing in order to keep the program under an hour, they largely skip over the 1990s. Sting is discussed, they talk about Flair and Vader in '93, and then that's about it except for a few minutes on Goldberg in the late 90s. Hell, longtime fans may ask themselves, "Did Starrcade take a few years off?" or maybe "I must have drank my self into oblivion watching early 90s WCW, because I seriously don't remember anyway" (Hey, I never said those early 90s events were good). Either way, the 90s are for the most part neglected.
As far as the match listing on the set goes, it's very good. Most of the legendary bouts you'd expect are present. My only complaint is they should have included at least one match from every Starrcade (1984, 1990, 1994, and 1999 are completely absent). In particular, Bret Hart vs. Goldberg from '99 would have been a good inclusion, at least for historical purposes. There are 25 matches on the set, so with there being 18 Starrcade events, this should have been possible. Either way, that's a minor gripe.
Overall, if you at all consider yourself an "old school" wrestling fan, this DVD is a must have. Not only because of the great content, but also because higher sales will make it a stronger possibility that we will see WWE releasing more WCW content in the future.
That's it for the wrestling's past portion of the column, shot one. Now for the other half of the double shot, wrestling's present. I just finished watching WWE's No Way Out pay per view. Back in the first edition of this column, I talked about how it had been such a long time since "the E" got me excited for one of their monthly PPVs. I will have to say, they somewhat sucked me back into the fold this month. I was very much anticipating the Michaels/JBL match, and even the Orton/Shane match (although I did find Shane's return to TV, where he was beating the sense out of one of the company's top stars, somewhat ridiculous).
Except for the ECW title match (I guess they had to have the red headed step child brand represented somehow), this was a solid event. It was very odd to see both the Undertaker and Triple H jerking the curtain and being on the first match of the show, but it also helped get the momentum going right away. The opening match was solid, although Kozlov did make things boring at times. Once things got down to Hardy, Triple H, and Undertaker things got going, though. I don't think anyone was shocked to see Triple H walking out with his 13th world title. He's gotta beat Ric's mark someday, ya know...
Orton vs. Shane was insane. Shane pulled out his typical highspots, and things never got slow in this match. Orton continues to be the best thing going on WWE, in my opinion (Jericho is a close second).
Next was the previously mentioned snoozer ECW title match. I wonder how many toilets around the country flushed during this match?
JBL vs. Michaels was good, as expected. They showed Shawn's wife Rebecca tons during this match, so I wonder if she'll be getting more involved on WWE TV in the future. I was kind of shocked at how easily Shawn got the victory once his wife smacked the hell out of JBL. It was right into his finishing sequence after that, but the crowd was hot so it worked. This storyline could have continued for a few months ( I wouldn't have complained because it was very good) but it appears this will be the end of it.
The closing match was excellent. Kofi Kingston got taken out at the very beginning of the match (much to my girlfriend's dismay) during his entrance by Edge. Edge then proceeded to take his spot in the match. Even more shocking was John Cena being in the match for less than 5 minutes before he was pinned. The crowd didn't like that, but once he was eliminated it was exciting knowing there was going to be a new champ. People will definitely be interested in where they are going, now that both World Titles are controlled by SmackDown wrestlers. It'll be interesting to see how they explain Edge being able to legally enter this match after his sneak attack on Kingston, especially since he walked out with the belt in a match he never signed that hypothetical contract for. I will say, this outcome definitely created the most intrigue out of all possible finishes, so they have succeeded in making things interesting heading into the biggest event of the year. Will they strip Edge of the title, and have a title tournament to crown a new champion? They do have nearly a month and a half before WrestleMania, and that would make for some good television. If I were booking things, that is the direction I'd go in.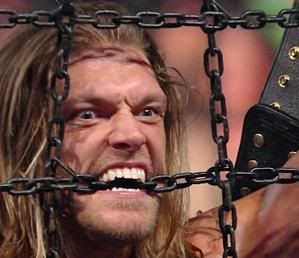 That's it for this edition. Make sure to send those emails to Droste@wrestleview.com. I look forward to reading your thoughts, either on the current wrestling scene or a topic of the past. For example, what do you guys think of the new "Saturday Night's Main Event" DVD set? I'll publish your thoughts in the next edition of the Double Shot. As always, you give me the topic and I shall discuss. Reader input is essential to the success of this column, so have at it! See ya next time. Stay tuned to http://drostesdoubleshot.blogspot.com and http://www.thehistoryofwwe.com!