March 3, 2009
Ryan Droste
The Best of Mania: 1-5
For the next five weeks here on the Double Shot we will be doing a special WrestleMania feature. Each week, I will focus on a group of five WrestleManias and pick out what I consider the top ten matches from that respective group. We will start this week with WrestleManias I-V, next week will be VI-X, etc. Upon reaching the conclusion, I will have effectively listed off what I consider to be the top 50 WrestleMania matches of all time. Sound good? Let's get started.
Droste's Double Shot WrestleMania Rundown, Set 1
Top Ten Matches from:
WrestleMania I - March 31, 1985; New York
WrestleMania II - April 7, 1986; New York, Chicago, Los Angeles
WrestleMania III - March 29, 1987; Detroit
WrestleMania IV - March 27, 1988; Atlantic City
WrestleMania V - April 2, 1989; Atlantic City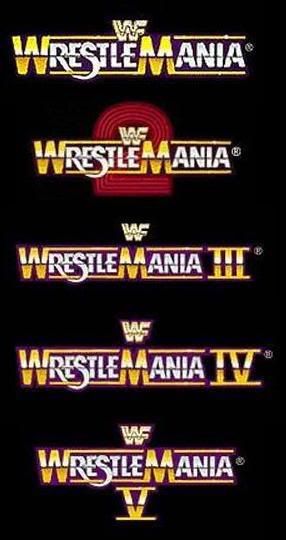 Barry Windham & Mike Rotundo vs. Iron Sheik & Nikolai Volkoff, WrestleMania I
Fun fact, Hogan's legendary "Real American" theme song was originally made and used for Windham and Rotundo, The U.S. Express. This was a match with a good storyline leading up to it, playing off of the still popular USA vs. Soviet Union theme. Two great, young athletic workers against two heels that were over big time made this a memorable encounter.
Hulk Hogan & Mr T. vs. Paul Orndorf & Roddy Piper, WrestleMania I
This match simply can not be left off the list. The build-up for this match, cross promoting with MTV, is single handedly responsible for creating the monster that is WrestleMania. Not great froma technical stand point, but the promotion and storyline puts it way over the top. If it weren't for this match, there would be no WrestleMania (and perhaps no WWE, Vince basically gambled the future of the company on the success of this first WrestleMania).
British Bulldogs vs. Brutus Beefcake & Greg Valentine, WrestleMania II
An underrated match which I have always enjoyed. It's by far the best thing on a somewhat lackluster WrestleMania. This match captures the Bulldogs at their height, before Dynamite's back really start giving him problems and hindering their match capability. And hey, anytime someone can carry Brutus Beefcake to a good match, you know you've got something special.
Terry & Hoss Funk vs. Tito Santana & Junkyard Dog, WrestleMania II
The only WrestleMania that Terry Funk competed on during his prime (his next WrestleMania match was at XIV, when he was 53 years old). The match featured the usual great psychology you find with a Terry Funk match. Santana always had good matches, and it's often forgotten just how over JYD was in the mid 80s (like, top five in the company over).
Roddy Piper vs. Adrian Adonis, WrestleMania III
The build up to this match was fantastic. In one memorable moment in the week's leading up to this match, Piper was laid out by Adonis, Bob Orton (his former partner) and Don Muraco. They left Hot Rod beat up with red lipstick all over his face, and his Piper's Pit set destroyed. Piper retaliated by destroying the set of Adonis' Flower Shop set with a baseball bat. This set up their hair vs. hair match at WrestleMania III, billed as Piper's "farewell match." A very memorable WrestleMania moment as Piper rode off into the sunset (well, for at least a couple years).
Randy Savage vs. Ricky Steamboat, WrestleMania III
This is the shoe-in of the group. Behind the epic Flair/Steamboat matches of 1989, this was probably the greatest wrestling match of the 1980s. If you go back and watch it today, the match ages extremely well. It's still a clinic of athleticism. Action from bell to bell that barely lets up. An interesting fact about this match is that Steamboat and Savage scripted this entire match out, move for move, in a notebook over the course of a couple of months. Each spot had a corresponding number, and they had it down so well they could yell out a random number and immediately know which spot it was. This match single handedly inspired many future wrestlers to take the career path they did, most notably Chris Jericho.
Andre the Giant vs. Hulk Hogan, WrestleMania III
I had a hard time putting this on my list, as I wanted to keep this to great, quality wrestling matches. This is perhaps one of the most atrocious wrestling matches I've ever seen, technically speaking (if you were to give it a star rating, it'd be in the negatives), but it's historical significance and build up makes it a must on this list. That and the fact that there weren't a whole lot of technical masterpieces on the first five Manias to give it much competition and push it out of the list.
Demolition vs. Strike Force, WrestleMania IV
I wanted to include at least one match from every WrestleMania, but I will admit it was hard pulling one from IV. The whole tournament concept of WrestleMania IV made the event exciting. However, because of the high volume of matches it made it necessary for the tournament matches to be rather brief and somewhat unmemorable. The final match between Savage and DiBiase could have been a legendary encounter given time, but it was pretty quick given that both men were wrestling their third match of the day. This tag match between the up and coming Demolition and Strike Force (Tito Santana & Rick Martel) was the best quality match on a WrestleMania that was lacking in that department.
Brain Busters vs. Strike Force, WrestleMania V
The only WrestleMania to feature the former Four Horsement tandem of Arn Anderson and Tully Blanchard in action. Strike Force was still one of the hottest tag teams in the territory, and this turned out to be probably the best quality match on another show that lacked overall wrestling quality.
Randy Savage vs. Hulk Hogan, WrestleMania V
Not a technical masterpiece by any means, but the build-up to this match was unbelievable. So many memorable segments come to mind when you think about the build up to this match. And it all started the year prior at WrestleMania IV, when Savage gave Hogan an ever so slight glare as he celebrated with Miss Elizabeth after helping Randy win his first WWF title. The Mega Powers tag team was unbelievably successful throughout 1988, and then when they finally "exploded" at that memorable Saturday Night's Main Event, people couldn't wait to see the top two WWF champions of the 1980s square off. Savage carried Hogan to a respectable match here. One of those must-see Mania matches.
So that's it, my top ten matches from WrestleManias I-V. Agree? Disagree? Send me an email with your thoughts at Droste@wrestleview.com, and I'll publish the best responses I get with next week's column. Stay tuned to http://drostesdoubleshot.blogspot.com and http://www.thehistoryofwwe.com. I'll see you next week with the top ten matches of WrestleMania's VI-X!