March 25, 2009
Ryan Droste
The Best of Mania: 16-20
This is the fourth in a five part series here on the Double Shot counting down the top 50 WrestleMania matches of all time. Each week, I will focus on a group of five WrestleManias and pick out what I consider the top ten matches from that respective group. In case you missed them, you can click the following links for the previous editions:
WrestleManias I-V, Click Here
WrestleManias VI-X, Click Here
WrestleManias XI-XV, Click Here
On to this week...
Droste's Double Shot WrestleMania Rundown, Set 4
Top Ten Matches from:
WrestleMania XVI (2000) - April 2, 2000; Anaheim
WrestleMania XVII - April 1, 2001; Houston
WrestleMania XVIII - March 17, 2002; Toronto
WrestleMania XIX - March 30, 2003; Seattle
WrestleMania XX - March 14, 2004; New York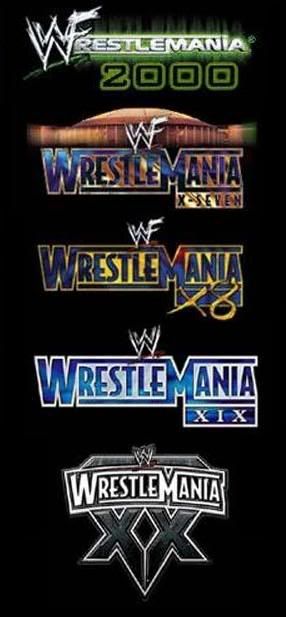 Dudley Boyz vs. Edge & Christian vs. Hardy Boyz, WrestleMania XVI
These three tag teams ushered in another great tag team era in company history during the early 21st century, the last great tag team era being the early 90s. This match was unreal, a spectacular match on what overall was a letdown of a WrestleMania. The image that will always be etched in my head is Jeff Hardy nailing an insane Swanton off the over sized ladder in the entrance way.
Chris Benoit vs. Kurt Angle, WrestleMania XVII
Without a doubt, these two men were the top two technical wrestlers in the company in 2001. Seeing them showcase their talents on what would be (in my opinion) the greatest WrestleMania of them all was special. I had the chance to see them wrestle about a month prior to WrestleMania at a house show in February of 2001, and I knew they were trying to piece together something special for Mania in Houston. They did not disappoint. A 4+ star masterpiece.
Dudley Boyz vs. Edge & Christian vs. Hardy Boyz, WrestleMania XVII
After their first TLC match at the previous year's Mania, Vince decided why not let them do it again? Thank God he did. Rarely does a sequel top the original, but it did in this case. Another unbelievable match between three of the top tag teams of the 2000s. This would end up being one of the last great matches for both the Hardys and Edge and Christian before the team members tried their hands at single careers.
Steve Austin vs. The Rock, WrestleMania XVII
The build up to this match was one of the best jobs the company ever did in hyping a title match. I'll never forget those TV vignettes set to the Limp Bizkit song "My Way." They were outstanding, as was the match that followed them up. The only thing that slightly took away from the match was WWF turning Austin heel at the end, in his home state in front of one of the biggest crowds in company history. This event was the peak of the attitude era, of which Austin was the poster boy. The crowd was extremely hostile towards Rock, and I felt then, as I do now, that Rock should have done the full fledged heel turn at the end of the match. Unfortunately, Rock was about to go off to Hollywood and I think WWF felt that turning him heel might end up hurting his career in tinsel town (as ludicrous as that sounds). Austin turning heel ended up killing WWF's business throughout the rest of 2001. All of that being said, this is the best match Rock and Austin ever had.
The Rock vs. Hulk Hogan, WrestleMania XVIII
This was a dream match that just a few years earlier nobody would have ever imagined possible. It was originally supposed to be Austin vs. Hogan, but if I remember correctly Austin did not want to work with Hogan. Austin vs. Hogan was the #1 dream match people wanted to see, but Rock vs. Hogan was a close second. The crowd made this match as much as the two wrestlers did. The crowd, at the same site Hogan battled the Ultimate Warrior, cheered on their beloved boyhood hero to Rock and Hogan's surprise. What ended up happening was a great piece of theatre that both men played upon superbly.
Chris Jericho vs. Shawn Michaels, WrestleMania XIX
When Michaels returned to the ring after a 4 1/2 year hiatus the previous summer, many people wondered if he would still be possible of some type of all time classic matches he was known for earlier in his career. Those doubts were put to rest in his first match back in August. By WrestleMania time, Michaels was set to put together another WrestleMania masterpiece. Jericho was the perfect opponent to make it happen. The build to the match, with Jericho focusing on his idolizing Shawn as a boy, was particularly well done. Many people had extremely high expectations for this match going in, and kudos goes to both these guys for performing under pressure and delivering. A must see match.
The Rock vs. Steve Austin, WrestleMania XIX
While rumors continue to swirl that Austin will return for one last match at some point in time, this match vs. The Rock in 2003 continues to be the last match of his career as of now. The unbelievable thing is, going into this match nearly nobody knew it would be the last time we'd see Austin competing in the ring. I remember being shocked to hear Austin was done in the weeks afterward. Making it all the more unbelievable that the two had the match they had is the fact that Austin spent the night before WrestleMania in a Seattle hospital after he suffered an extremely fast heart rate and nearly died. Austin was going to do the match no matter what, though. In the third match of their WrestleMania trilogy. If I were to rank their three matches at WrestleMania, I'd put XVII first, this one second, and XV third. All three among the top 50 matches in WrestleMania history. This match is notable in that it was the only one of the three that Rock won. The most memorable moment for me was the heartfelt embrace Rock gave Austin immediately after the conclusion of the match. Yes Rock did wrestle for a final time the next year at WrestleMania XX, but this match was effectively the last great hurrah of the two biggest stars of the attitude era.
Brock Lesnar vs. Kurt Angle, WrestleMania XIX
Simply put, everyone that followed wrestling closely at this time was scared to death watching this match. Kurt Angle's neck was a mess going in, and there was a legitimate chance he would walk away from this match paralyzed if anything went wrong. Thankfully it didn't. The closest call of the match was when Lesnar landed on his head executing the shooting star press (a move that he routinely did during his days in OVW, but had never attempted on a big WWE show). These two amateur greats delivered one of the best technical masterpieces in Mania history. Angle made it through the match healthy, although in a extreme amount of pain (he passed out in the dressing room after the match, when the adrenaline ran out).
Eddie Guerrero vs. Kurt Angle, WrestleMania XX
What was a pretty safe pick for "match of the show" going in delivered. Given more time, it could have been possibly one of WrestleMania's top five matches ever, this match is not to be forgotten. Guerrero hung on to his title he had won for a first time just a month earlier. Outside of Benoit, it'd be hard to argue there was anyone in the company more technically sound than either Guerrero or Angle in 2004.
Chris Benoit vs. Shawn Michaels vs. Triple H, WrestleMania XX
While typically I'm not much of a fan of triple threat matches, this is the best triple threat match I have ever seen. Without question. This match also set in motion a trend of triple threat title matches at WrestleMania that has continued to this day. Given the Benoit family tragedy in 2007, this is a weird match to go back and watch. I actually can't pull myself to do so. But as I remember watching it in 2004 before that nightmare, the ending to the match was one of the most memorable moments in wrestling history for me. So many people had watched Chris Benoit for years as one of the top wrestlers in the world, yet he never got close to that elusive world title. This was the night where he finally got his moment to shine atop the wrestling world. When he hoisted the title at the end for the first time in his career, and then was joined in the ring by his best friend Eddie Guerrero (with the WWE's other world title around his waist), it was hard to not have your eyes tear up. It was one of the few times where the fictional world of pro wrestling brought about the realest of emotions in people. This was as real as it gets.
Honorable Mentions: HHH vs. Foley vs. Rock vs. Big Show (XVI), HHH vs. Undertaker (XVII), McMahon vs. McMahon (XVII), Flair vs. Undertaker (XVIII), Hogan vs. McMahon (XIX), HHH vs. Booker T (XIX), Jericho vs. Christian (XX), Foley & Rock vs. Orton, Batista & Flair (XX)
This was by far the toughest bracket of the WrestleMania countdown thus far. Multiple 3+ star matches had to be left off the list because of the stiff competition. This is in stark contrast to, say, the WrestleMania XI-XV bracket where two and a half star matches made the list because the competition for those cards overall was pretty weak. This creates a problem in some peoples eyes in that when we combine the top ten matches from each bracket at the end of this feature next week, which will give us a hypothetical top fifty matches of WrestleMania history, there are going to be matches on that list that aren't as good as some of the matches left off this week's list.
Although, this also puts somewhat of a historical perspective on the overall list because you can't judge a match from 1986 vs. a match from 2001. Wrestling styles had evolved by the 21st century, so we shouldn't be harsher on matches from the 80s when the style was different. That's why I chose to do this overall bracket system, we could get matches on the list from all eras even though the wrestling quality was indisputably better by 2001. In other words, I didn't want the final top 50 list to be top heavy, with 80% of the matches coming from the past ten years. This will hopefully give us a more well rounded list in the end. So yes, Triple H vs. Undertaker from WrestleMania XVII may be a better match than Demolition vs. Strike Force from WrestleMania IV, but HHH vs. Undertaker wasn't a top ten match during the time period of 2000-2004, while Demolition vs. Strike Force was a top ten match from 1985-1989, so it deserves to be on the list given it's historical context.
That's it for this week. As always, leave a comment over at the blog (http://drostesdoubleshot.blogspot.com) or send an email to Droste@wrestleview. Would love any feedback, or any good spirited debate on matches you would have or would have not included in the list from this set of WrestleManias. See you next week with WrestleMania's XXI-XXIV!