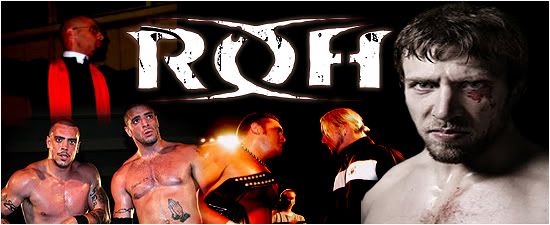 July 14, 2012
Gary Mehaffy
www.facebook.com/garymehaffy
@GaryMehaffy on Twitter
An Interview with Mike Mondo
Interview conducted July 9, 2012
When you were young and growing up, were you a fan of pro wrestling?
Oh yea, I was a huge fan growing up. I mentioned in an interview last night, or two nights ago, I actually remember sitting on my dad's lap watching a Hulk Hogan match. But then I realised what wrestling was, and I've been a fan since sixth grade. A lot of guys from that time – you know, when they have that down period – where they stop watching for a year or two; I never stopped watching. I was hooked since then, since I was a kid and I knew it was something I always wanted to do.
Who trained you or got you into the business?
I started at 18 years old at a wrestling school called the New York Wrestling Connection in Long Island, New York, which is where I'm originally from. The guys that trained me were John Curse and Mike Mayhem. Spent about two years there and then I moved to Louisville to OVW, and that's kind of where I really learned how to work and really hone my craft, and everything kind of stemmed from there.
I was just going to mention OVW. You went there in 2003. What led to that?
It's kind of a unique situation. When America Online (AOL) was all popular (laughs) I was talking to a buddy of mine at the time and he instant messaged me – we were from the same wrestling school, obviously – and he goes "Have you checked out the OVW website?" , because we knew that was the WWE developmental territory. So, I go "No, what's up?" He goes "They're holding a tryout camp." I was like "Really?" and he said "Yea, you should sign up! I mean what do we have to lose! What the hell, right?" So we went to the site, pulled up the information and applied. I got an email back a week later saying I was accepted and I was like "Alright, sweet!" He (my buddy) got accepted too and we were pretty much all pumped up for the opportunity. We were down there, I remember Dr. Tom (Pritchard) ran the camp, along with Danny Davis, Rip Rogers was there and also Rocky Johnson, when he was under contract. We looked around and we were like "Aw, man! There's all these frigging big jacked up dudes!" I remember every time I stepped in that ring though it was a key, key moment like everything's got to be perfect. I so badly wanted to be there. I knew moves, in New York, but watching (in OVW) that's where a light bulb went off and I thought "That's how it's supposed to be!" with the psychology. Long story short, I went home with high hopes and I got a call two weeks later from Jim Cornette wanting to know if I wanted to come down there full time and be on the television show. I made the decision to go down there and the rest is history.
You were brought up to the main WWE roster in early 2006 as part of the now infamous Spirit Squad. Before we get into that itself, I was wondering what your initial thoughts were when the idea was brought to you?
I heard about the idea before I knew I was getting it. Unlike a lot of people's first impressions I thought that's interesting, it's definitely different, and we knew it was Vince's idea, so whoever was going to be in the group knew that if it was Vince's idea then it's going to get up (to the main roster). One guy dropped out and I guess it's all about right place, right time! Timing is everything. I was in New Jersey and I got a call from Tommy Dreamer. He's like "You're in the New York area, right?" and I was like "Yea, yea, I'm visiting family for the holidays" or whatever. He goes "Can you make it to the Continental Airlines Arena? There might be a spot for you in the Spirit Squad." I was like "Really? Ok, what do you want me to do? What do you want me to look like?" He goes "Look like Nemeth." (laughs) So, like Ziggler, like that. So I'm like "Ok, blonde hair, highlights…." He said "Look as GQ as possible!" I actually came prepared with a couple of cheers in my head just in case. I saw John Laurinaitis and he goes "Hey, Mike, give me your best cheerleading impersonation." So I went balls out and acted like a complete ass in front of pretty much half the locker room. I was signed. I was at the point where I was in limbo, like "What's going on?" My brain at that time, being that young, was any opportunity was frigging fantastic. I just wanted to get there (WWE). They put me on the road with Ken Doane for a little bit. I was over-prepared as far as the wrestling goes. Not only did I teach classes but I went to every class, and I was pretty much at the OVW school more than I was at my own apartment. (laughs) So that was no problem. It was kind of a mixed reaction. "Alright man, let's see what we've got, make the most of it and freakin' do it!" (laughs)
On a personal note, when I watched the Spirit Squad, I did think that it could have had longevity as a major heel unit.
Oh, yea. We definitely all felt that way also, but it's like – how can I say? – thanks to mother nature. What Vince wants, Vince gets. I believe personally, and this was never said to us word for word, but we were brought in purposely, because before they were even on TV they knew Degeneration-X were coming back. We were put in the position we were in just so we could introduce them, you know what I mean? And once they were back and they were over – because obviously everyone knew who DX was – there was kind of no reason to keep us together after that. We were all young, we all had potential and so at that point we could go our separate ways, but I agree with you. We could have done matches with each other, there were so many routes and avenues…..we could talk about that for hours! It is what it is and that's that! (laughs)
Was there any resentment towards Ken, as he was positioned as the leader of the group? Or were the five of you just happy to be there?
We were all pretty much happy to be there. I wouldn't say it was resentment, you know what I mean? Not jealousy, but good jealousy if there is such a thing. He had the one on one title match with Cena, the singles thing with Flair when we were on the outside, but we all had our turn. I usually did everything with the trampoline. I would jump over the top rope and give somebody a bulldog or do a 450 on the outside off of it onto somebody. Yea, Ken was viewed as the leader, but it's one of those things where we all got our piece of the pie at some point in time. It wasn't that big of a deal. It wasn't like we were bitching like little girls about it or anything like that! (laughs) Ken is a hell of an athlete, a hell of a performer. The guy can do pretty much anything. He's got a lot, a lot of talent. I was very happy for him to see him go on after that actually and continue his run up there.
We saw how Nick was repackaged as Dolph Ziggler. When you went back to OVW were you promised any sort of creative reconfigurement by WWE?
Well pretty much this is what we were told. This I can tell you for a fact. I remember after Saturday Night's Main Event we talked with Hunter, afterwards in the locker room. He spoke to me out of the blue. He said "You know this things coming to an end soon, but you know you guys are gonna be ok, right?" I'm like "Do you mean keep our jobs?" He's like "No, no, no you guys are gonna stay up here, obviously. Mitch, I'm not so sure about, but you four are gonna be fine." I'm like "Sweet!" I told Dolph, I told Johnny, that Hunter just told me this. We were always asking each other is the end coming up soon, you know what I mean? You never knew. You could wake up tomorrow and it could be over, or it could be another eight months, who knows! We were so psyched up to hear that, being that we'd worked with them for eight months, or how ever long it was. Then pretty much we didn't stay up there! (laughs) Maybe that's what was told to Hunter by Vince. Obviously in wrestling things change all the time. It could be the babyface going over and when you hit the curtain it's, like, "Wait, wait, wait! You're going over." I've been in the ring when the referee told me to do a different finish, for whatever reason. I was like "Well, we're on TV right now! We'll figure it out, don't worry!" (laughs) Wrestling's on the fly – nothing's guaranteed ever! Until you have the contract, and it's on paper, and you both have signed it and it's officially in your hand. That's when you can take it to your grave! (laughs) Other than that, assume nothing!
You have been involved with ROH since 2010, full time since late 2011. How has that experience been?
Honestly – for shoot – this is the funnest time of my career, to be honest with you. All of the time I look forward to counting down the days to the next TV taping or the next house show. I will always volunteer to undertake interviews, like what we're dong right now, or being on the news or a radio interview to promote the show. I love working under Jim Cornette. Jim Cornette is one of the very few – and I can count them on less than one hand; the others being Dr. Tom Pritchard and Tommy Dreamer – he saw something in me, he believed in me, and just to work under him, it was like back in OVW again. It brought back the passion. I've always had passion for it, but you have those periods where you're in limbo, but Ring Of Honor resembles and represents wrestling. I always swore that I'm gonna pitch to the merchandise guys that they're gonna come up with a t-shirt that says 'We bring the sport back into professional wrestling' because that's what it is. It's about competition, it's wrestling, it's very literal entertainment value – like how TNA and WWE is today. For me it's great because it gives me a platform to show the entire world that Mike Mondo is not only a great wrestler but he's one of the best wrestlers out there. I'm saying that confidently, not cocky, but I really do believe that I'm one of the best out there. I eat, breathe the sport. If I told you what I did on the off time, you wouldn't believe me! I constantly embrace this business and just try to be different. I don't know if you've see a recent picture of me with my hair, but I wouldn't have my hair half blonde, and in a unique way, if I wasn't in wrestling. I kinda get weird looks sometimes! (laughs) The locker room's great and it's about wrestling, and that's why I wanted to be a wrestler to begin with was wrestling. Not to go in there and sing Frank Sinatra because it's a backdrop to something else that they wanna do. I wanna go! Ring the bell, let's wrestle!
You defeated Mike Bennett at Best in The World PPV. How much fun has it been working with him and Maria?
Oh, it's been a great time. I've actually lost to Maria for real in a wrestling match.
Yea, that's right, in OVW…..
In OVW, yea. Dreamer wanted me to do the Andy Kaufman thing and I lost to all the women and it ended up I lost to Victoria with one hand tied behind my back – but that's a whole other subject! (laughs) I got a lot of respect for Mike Bennett; I like Mike Bennett a lot. I think Mike's got that talent that you can't teach. He's the nicest guy, but when he comes through that curtain you just automatically wanna spit in his face. He's got the 'it' factor that you can't teach in a wrestling school. Not only does he have that, he can work and he can go, and he's got a great attitude – he's humble. I think Mike's got a great future. As for me personally, it was fantastic, because it closed a chapter of my life. For me personally, and it's not something that I'm bragging about, I've wrestled at Madison Square Garden, I've got to work at the Coliseum, at the Manhattan Centre, at Elks Lodge – which I'm sure, as fellow wrestlers would relate to, is a special place – and my old high school, in front of my peers. But I always wanted to work at the Hammerstein. It's where I saw my first wrestling event, it's where I saw many, many, many concerts. I was a fan of ECW when I was growing up, too, and they always worked at the Hammerstein, and I always wanted to wrestle at the Hammerstein Ballroom! I finally had that opportunity. Of course, I'm from New York, so I got to wrestle in every place you could wrestle in New York after that, so it was cool for me. It was awesome. The people, the crowd, how they are – there's a good feeling in there. It's a feeling that makes you wanna come back all the time for that adrenaline rush. The feed of that drug, so to speak! (laughs)
Recently in Ring Of Honor we've seen……even in the past week Kenny King debuted in TNA while still one half of your tag team champs. How big a blow to your roster do you think that was?
Well, I mean, it's kind of a double edged sword question. It sucks because…….I don't know exactly how it all went down, if you know what I mean, because I wasn't there, but from what I know he had an agreement. I know for me personally, if I ever make an agreement I'm a man of my word. I was taught in wrestling that the only thing you have is your word. Once your word is gone, what are you good for? You've got to have trust. He was a tag team champion, so obviously it was a blow, but at the same time I don't know Kenny's personal situation, if he's married or has kids or anything like that it may have been an on the spot type of decision. That was a decision Kenny King had to make. I, personally, wouldn't have done it, especially if I'd made a commitment and shook hands on it, but Kenny thought otherwise and that's between him and Ring Of Honor.
Are there worries about others leaving or is that just a natural evolution of the business, that people come and people go?
I don't see anybody else going any time soon. Realistically let's face facts – WWE is the only place you can make a million dollars in the United States. That's just how it is. TNA, they offer contracts, but I've got a buddy of mine at NYWC who recently just told me he's been sitting at home for six months not collecting a pay cheque, but yet you're under contract for two years. I don't know what everyone's situation is, but I just think it's the evolution of it. If people do wanna leave, then go ahead and leave! It'll just open up more opportunities for spots. I'm begging for the ball, I want the ball! I've never been more confident in my career than I am right now. You can put me in any situation, put me in any type of scenario and I will hit a home run every single time! I've had over two thousand matches, I have experience of wrestling all around the world. If anyone decides they wanna jump ship in our business – and I never wanna see that happen – but as far as a spot's concerned, I openly told everybody; I want the ball, I want to be the guy, the backbone of the company. I'm confident and I know I can run with it. Not that others can't, but it's my passion, it's my drive, my determination, my heart. I've been doing this for a long time and now I've got the opportunity to make a name for myself individually, not part of a group, to show the world that I can wrestle and be the best at it. I'm in fifth gear, man, let's do this. I wanna make a living at this one day. It doesn't have to be WWE. Who knows with the Sinclair deal – hopefully that takes off and that can become bigger than it is now. This past year has been a huge success. So hopefully it just keeps going strong and we all stick together – and stay – and keep going and working hard, which everyone does. The passion out there in the ring is incredible, the athleticism is unbelievable, so there's no doubt in my mind we have all the tools. We have the wrestling, we have the stars, we have the brains behind the curtain and we have Sinclair – we have the total package! Now it's just a matter of us combining as one and not missing an opportunity. Every time there's a Pay Per View or TV or a house show, we've got to hit home runs. Ring Of Honor belongs in that mainstream. We work hard and we show it. This is just my opinion, but I personally believe that within two or two and a half years from now that we can surpass TNA. WWE will always be number one. We can't compete with Vince, that's a fact. But I believe we can overtake TNA given the right circumstances. Only time will tell if my theory is correct! (laughs)
Do you have any words for your fans? Or how they keep in touch or find out what's going on in the world of Mike Mondo?
If you wanna know what I'm doing every minute of my life, or where I'm going, you can always keep in contact with me via Twitter. My Twitter name is @MikeMondo83 – feel free, as I love to interact with my fans. I love the fans. If it wasn't for you guys I wouldn't be living my dream and I wouldn't be making a living at what I do. It's what I've wanted to do since I was a kid. Thanks for all your support. It really is appreciated. There's nothing like going out and performing in front of you guys. If you don't have Twitter, and you're not following me, you can always find me on Facebook – facebook.com/mikemondo – very simple! Friend request me, write on my wall, I'll answer any questions you've got. I like to keep in touch and keep up a relationship with my fans. And, if you don't wanna do that, you can always visit my fan site – www.mike-mondo.net – my webmaster and I are still kinda working on that. It looks pretty good right now. I've got a lot of ideas that I wanna do with it, it's just a matter of agreeing and bringing it into effect. You can see a lot of my matches. I'm a big motivational guy, I like to watch a lot of motivational YouTube videos, so if you're into that type of stuff…….because I believe no matter who you are or what you want to do, never let anybody say you can't. I believe I'm living proof. No one ever though I'd be a wrestler, no one ever thought I'd make it to the big leagues, no one ever thought I'd make it and survive in Ring Of Honor, but guess what? It happened, and it's happening right now in Ring Of Honor. It's a slow progression, but I'm gonna get there. You can accomplish anything you wanna do, it's just and only you that have to know you can do it, so don't take no for an answer, I don't care who tells you you can't. That YouTube is theoneandonlymondo. Feel free to subscribe there and you can see all that good stuff!