For nearly seven years, the World Wrestling Federation preempted
Saturday Night Live
's timeslot on NBC and brought professional wrestling back to broadcast television after an absence of many decades. Providing memorable matchups on almost a monthly basis,
Saturday Night's Main Event
allowed the WWF to reach an even broader fanbase and learn firsthand from NBC execs as how to further the production value of their programming. In 1992, the Fox Network carried two installments of the program. The show returned to NBC in 2006 after a 14-year absence.
WWF @ Long Island, NY - Nassau Coliseum - May 10, 1985 (8,300)
Saturday Night's Main Event - 5/11/85 on NBC (8.8) - featured opening comments from WWF Women's Champion Wendi Richter & Cyndi Lauper and WWF World Champion Hulk Hogan & Mr. T regarding their matches later in the show; included Animotion's "Obsession" as the opening theme song; featured Vince McMahon & Jesse Ventura on commentary; included Gene Okerlund conducting an interview with Ricky Steamboat, Mike Rotundo, Barry Windham, & Capt. Lou Albano regarding their 6-man tag team match later in the show; featured Paul Orndorff as a guest of Piper's Pit, during which Orndorff ordered Bob Orton Jr. to stand alone in the corner while he spoke with Roddy Piper; moments later, Piper asked Orndorff what it was like to be a loser, with Orndorff blowing up and ordering Orton to stay in the corner when he saw him moving; after Piper called Orndorff an embarassment, he tried a cheap shot but Orndorff fought off both Piper and Orton; as Orndorff attempted the piledriver on Piper, Orton attacked Orndorff from behind with his arm cast; moments later, Mr. T appeared to help Orndorff to the back and hold Piper and Orton off; included Okerlund conducting an interview with Hogan about what happened during the Piper's Pit, during which Hogan dedicated his match with Orton to his mother for Mother's Day and wishing Orndorff well on his recent change of heart; featured Okerlund conducting a backstage interview with Albano & Lauper regarding Richter's upcoming title defense and Lauper's new music video on MTV - "Good Enough," from the Goonies' movie; included an airing fo the music video, with appearances from Albano, the Iron Sheik, Freddie Blassie, Piper, Nikolai Volkoff, Steven Spielburg, and the cast of the film; moments later, Piper interrupted the interview and said it was the greatest video until Lauper appeared in it; included Okerlund conducting an interview with the Fabulous Moolah, during which she announced she had Cyndi Lauper barred from ringside for her match later in the show; featured Okerlund conducting an interview with Richter, Lauper, and David Wolfe regarding Moolah's stipulation; included Okerlund conducting an interview with the Junkyard Dog and his mother, Bertha Ritter, who he brought to the show for Mother's Day; featured a closing backstage segment with Okerlund, JYD, JYD's mother, Sheik & Volkoff, Lauper, Richter, Blassie and his "mother" (an attractive young woman), Albano, Hogan and his mother Ruth, and Lauper's mother; moments later, Moolah appeared, upset she wasn't invited, with Lauper's mother and Richter eventually throwing her into a nearby cake; Okerlund accidentally fell into the cake as well; included Survivor's "Eye of the Tiger" during the end credits, with footage of Hogan making his entrance for his earlier match:
Ricky Steamboat, Barry Windham & Mike Rotundo (w/ Capt. Lou Albano) defeated George Steele, WWF Tag Team Champions Nikolai Volkoff & the Iron Sheik (w/ Freddie Blassie) at around 6:30 when Windham pinned Steele with a roll up from behind after Sheik & Volkoff refused to be tagged by their partner; after the bout, Steele fought off an attack from the tag team champions, scaring them from ringside, until he was consoled by Albano in the ring; moments later, Gene Okerlund conducted an interview near the entranceway with Blassie, Sheik & Volkoff about the match, during which Steele & Albano walked by and Steele threw punches at Volkoff before going backstage (Best of Saturday Night's Main Event)
WWF World Champion Hulk Hogan (w/ Mr. T) defeated Bob Orton Jr. (w/ Roddy Piper) via disqualification at 6:54 when Piper punched the champion from the floor as Hogan had Orton covered following the legdrop; after the bout, Piper & Orton double teamed Mr. T and cornered Hogan until Paul Orndorff came out and helped scare the heels from the ring; moments later, Orndorff celebrated with Hogan & T and all three posed together in the ring (Best of Saturday Night's Main Event)
WWF Women's Champion Wendi Richter pinned the Fabulous Moolah at around the 4-minute mark by reversing a bodyslam into an inside cradle; prior to the bout, Cyndi Lauper escorted Richter to ringside before Howard Finkel announced Lauper had been banned from ringside for the match; during the cotnest, Lauper was seen watching the match backstage on a monitor; after the match, Lauper and David Wolfe returned ringside to celebrate with Richter
The Junkyard Dog (w/ his mother, Bertha Ritter) pinned Pete Doherty with the powerslam at around 3:15; after the bout, JYD danced with his mother in the ring
WWF @ East Rutherford, NJ - Meadowlands - October 3, 1985 (8,000)
Saturday Night's Main Event #2 - 10/5/85 on NBC (8.3) - included Gene Okerlund conducting an opening interview behind the curtain with Nikolai Volkoff & Freddie Blassie regarding Volkoff's upcoming title flag match against WWF World Champion Hulk Hogan, followed by a promo by Hogan; featured Okerlund conducting a backstage interview with Uncle Elmer and Hillbilly Jim regarding their upcoming match and Elmer's wedding, during which Roddy Piper interrupted; featured Animotion's "Obsession" as the opening theme song; featured Vince McMahon & Jesse Ventura on commentary, with Ventura protesting the upcoming wedding, citing it should have nothing to do with wrestling; included backstage footage of Elmer's soon-to-be wife getting ready for her wedding; featured Okerlund conducting a backstage interview with Jim, Elmer, & Cousin Luke regarding Elmer's upcoming match and wedding; Arnold Schwarzenegger and NBC executive Brandon Tartikoff were shown in attendance; included Bobby Heenan as a guest of an in-ring segment of the Body Shop in which Heenan and Ventura discussed Heenan's bounty put on Paul Orndorff's head; during the segment, Heenan showed the $50,000 he was offering and said he would be glad to give it to Piper if Piper could get the job done; featured Okerlund conducting a backstage interview with Orndorff regarding the Body Shop segment and his upcoming match with Piper; included Okerlund conducting a backstage interview with Piper regarding his upcoming match with Orndorff and Heenan's bounty, with Piper claiming he would rip Heenan's throat out if he didn't pay up; featured the in-ring wedding of Uncle Elmer and Joyce; among those in the ring during the segment were Hogan, Jim, Luke, Capt. Lou Albano, and Andre the Giant; Ventura repeatedly made fun of Elmer's accent during the segment and having to ask the preacher to repeat himself; when the preacher asked if anyone objected, Piper appeared, said there was no room for romance in wrestling, and eventually left, with the ceremony then continuing; included Okerlund conducting a backstage interview with Heenan, Big John Studd & King Kong Bundy regarding their upcoming tag team match; featured a video package in which Okerlund went looking for George Steele at the Detroit zoo, with Steele and Okerlund visiting the elephants, tigers, lemurs, and hippos; after visiting the animals, Steele ran off and hit in the bushes; included Okerlund backstage at Elmer's wedding reception, with Hogan, Orndorff, McMahon, and Ventura sitting together at a table; moments later, Lanny Poffo recited a poem to the couple and Jim proposed a toast; Okerlund then introduced Tiny Tim, who wished the couple best of luck and gave Elmer a ukulele as a wedding present; Elmer then sang Joyce George Jones' "Walk Through this World With Me;" after the performance, Ventura read his own poem which protested the wedding, with Jim then pushing Ventura into the cake when Ventura tried to get away from Hogan and Orndorff; after the commercial break, McMahon announced Hogan & Andre would face Bundy & Studd at the following month's Saturday Night's Main Event; the show closed with Elmer and Joyce dancing:
WWF World Champion Hulk Hogan pinned Nikolai Volkoff (w/ Freddie Blassie) with the legdrop in a flag match at 5:17 after the challenger hit the turnbuckle; after Volkoff's entrance, Gene Okerlund conducted an interview behind the curtain with Hogan; Hogan used "The Star Spangled Banner" as his entrance music for the bout; after the contest, Hogan ripped Volkoff's Soviet Union flag and waved the American flag; following the commercial break, Okerlund conducted a backstage interview with Hogan regarding his win and the upcoming wedding (Hulk Hogan: Real American, Saturday Night's Main Event: The Greatest Hits, Hulk Still Rules)
Uncle Elmer (w/ Hillbilly Jim & Cousin Junior) pinned Jerry Valiant at the 12-second mark with a bodyslam after Valiant charged Elmer; the announced time was a record-breaking 6 seconds; after the match, footage was shown of King Kong Bundy's win over SD Jones at WrestleMania, which had an announced time of a record-breaking 9 seconds; moments later, Okerlund conducted a backstage interview with Jim, Elmer, & Luke about the history-making win and the upcoming wedding
Paul Orndorff fought Roddy Piper to a double count-out at 4:01 when - after a crossbody by Orndorff sent both men over the top to the floor - they brawled all the way backstage and into the hallway until Piper escaped into his dressing room and locked the door; prior to the bout, Piper was escorted to the ring by a bagpipe band; Bobby Heenan briefly appeared ringside with a briefcase of money before the bout (Born to Controversy: The Roddy Piper Story, Best of Saturday Night's Main Event)
Andre the Giant (w/ Capt. Lou Albano) & Tony Atlas defeated King Kong Bundy & Big John Studd (w/ Bobby Heenan) via disqualification at 4:26 when Andre was illegally double teamed after Studd rammed Atlas into the ringpost on the floor; prior to the match, footage was shown of Bundy & Studd attacking Andre at Maple Leaf Gardens in Toronto; after the bout, WWF World Champion Hulk Hogan made the save for Andre and helped clear the ring; following the commercial break, Gene Okerlund interviewed Hogan, Andre, & Atlas in the ring about the match
WWF Tag Team Champions Brutus Beefcake & Greg Valentine (w/ Johnny V) defeated Lanny Poffo & Tony Garea (sub. for George Wells) when Garea submitted to Valentine's figure-4 at around the 3:30 mark; after the challengers' entrance, Okerlund conducted a backstage interview with the champions & Johnny V, in which Okerlund mentioned Barry Windham & Mike Rotundo as their top challengers before introducing footage of Beefcake & Valentine's controversial title win; Windham & Rotundo were shown in attendance during the contest; after the match, Beefcake knocked Poffo to the floor and stomped on Garea
WWF @ Hershey, PA - Hersheypark Arena - October 31, 1985 (8,000)
Saturday Night's Main Event #3 - 11/2/85 on NBC (6.8) - featured Gene Okerlund conducting a backstage interview with Bobby Heenan, dressed as Davey Crockett, regarding his team of Big John Studd & King Kong Bundy facing WWF World Champion Hulk Hogan & Andre the Giant, with Heenan smashing two small pumpkins to explain how Hogan and Andre would be beaten; included opening comments from Hogan & Andre regarding the upcoming bout; featured Jesse Ventura conducting an opening backstage interview with Roddy Piper, dressed as Superman, regarding the hillbillies being on Piper's Pit later in the show; included Okerlund conducting an opening backstage interview with Terry Funk & Jimmy Hart regarding Funk's upcoming match with the Junkyard Dog, during which Funk said he was on his way to the WWF World Title before spitting tobacco onto the camera lens; "Tubular Bells" was used for the opening comments video package; featured Animotion's "Obsession" as the opening theme song; included Vince McMahon & Ventura on commentary; featured footage of Funk recently assaulting Mel Phillips; included Okerlund conducting an interview with Funk & Hart in the arena regarding the assault and Funk's upcoming match with JYD; featured footage from Madison Square Garden of Funk assaulting JYD with his branding iron on Sept. 23; included Okerlund backstage hosting the Halloween party contest, with Capt. Lou Albano and Heenan captaining the two teams; Heenan's team consisted of Randy Savage & Miss Elizabeth (Tarzan and Jane), Nikolai Volkoff (Robin), Bundy (Abraham Lincoln), the Iron Sheik (Batman); Albano's team consisted of WWF IC Champion Tito Santana (Zorro), Hogan (Hercules), Hillbilly Jim, Cousin Junior, & Uncle Elmer (the Three Muskateers), and Albano (Julius Caesar); the opening contest saw Albano beat Bundy in a pie-eating contest, with Bundy putting a pie in Albano's face after the decision was announced; featured footage of Piper interrupting Uncle Elmer's wedding at the previous month's Saturday Night's Main Event and of Ventura's insulting comments during the wedding; included Jim, Junior, & Elmer as guests of Piper's Pit in which the hillbillies took issue with Piper's comments about Elmer's wife and eventually called out Ventura, who left the broadcast booth to answer the challenge; moments later, Bob Orton Jr. snuck up behind Junior, with Piper then shoving Junior back and him falling over Orton; the hillbillies then easily cleared Piper, Orton, and Ventura from the ring; featured Okerlund hosting a pumpking bobbing contest between Heenan, with Savage & Elizabeth, and Junior, with JYD & Santana, with Heenan winning; included Okerlund conducting an interview with Heenan, Bundy, & Studd in the arena regarding their upcoming match; featured Okerlund conducting an interview in the arena with Albano, Hogan, & Andre regarding their upcoming match; included the broadcast premiere of "The Land of 1,000 Dances" music video, which would be exclusively shown on MTV, starring all the WWF talent, Meatloaf, and Cyndi Lauper (as Mona Flambe); featured Okerlund conducting an interview in the arena with Savage & Elizabeth regarding Savage's upcoming match with Santana; included footage of Mr. Fuji backstage preparing for his kung fu challenge, and of Steamboat breaking bricks and boards in preparation; featured footage of Piper at home with McMahon on Halloween, with Piper meeting a group of trick or treaters and the kids tricking him into eating chocolate-covered red peppers; included McMahon conducting a backstage interview with Hogan about the footage; featured Okerlund conducting a backstage interview with Fuji in which he was shown breaking two consecutive bricks with his hand and one with his head; included Okerlund conducting an interview with Steamboat in the arena about his upcoming match, during which they reviewed footage of Fuji & Don Muraco recently hanging him over the ring ropes; featured Okerlund, Ventura, & McMahon backstage covering the third and final competition - the pumpkin pass, with Albano's team winning after Miss Elizabeth failed to pass the pumpkin to Piper, with Savage and Piper blaming Elizabeth for the loss; included a closing challenge from Ventura to the hillbillies for a match at the next SNME; featured "The Monster Mash" as the closing theme song:
Terry Funk (w/ Jimmy Hart) pinned the Junkyard Dog at 5:16 after hitting him in the back of the head with Hart's megaphone after JYD brought Hart into the ring; after the match, Funk attempted to attack JYD with his branding iron but JYD knocked him to the floor and pulled his pants off before knocking Funk off the apron and branding Hart's butt (Grudge Matches, Most Embarrassing Moments, Legends of Wrestling: Roddy Piper and Terry Funk)
WWF World Champion Hulk Hogan & Andre the Giant defeated King Kong Bundy & Big John Studd via disqualification at around the 8-minute mark when referee Joey Marella stopped the match as Bundy & Studd double teamed Andre as his arms were tied in the ring ropes; during the contest, Jesse Ventura said he, Roddy Piper, and Bob Orton Jr. would face Hillbilly Jim, Uncle Elmer, & Cousin Junior at the next Saturday Night's Main Event if NBC would let him leave the broadcast booth; prior to the bout, Hogan & Andre were escorted to the ring by Capt. Lou Albano while Bundy & Studd were escorted by Bobby Heenan; mid-way through the match, the initial referee was knocked out and Marella took over officiating; after the contest, Hogan helped make the save, with he and Andre clearing Bundy & Studd to the floor; moments later, Gene Okerlund interviewed Hogan & Andre in the ring, during which Andre said he wanted more from Bundy & Studd (Hulk Still Rules)
Randy Savage (w/ Miss Elizabeth) fought WWF IC Champion Tito Santana to a dobule count-out at 4:08 after both men began brawling on the floor
Ricky Steamboat pinned Mr. Fuji (w/ Don Muraco) in a kung fu challenge match at 3:16 with a dropkick off the top; after the bout, Muraco attacked Steamboat and repeatedly stomped him in the head before leaving with Fuji
WWF @ Tampa, FL - SunDome - December 19, 1985
Saturday Night's Main Event #4 - 1/4/86 on NBC (10.4) - featured opening footage of WWF World Champion Hulk Hogan and Gene Okerlund drinking a protien drink beside a pool as Hogan prepared to face Terry Funk; included opening footage of Roddy Piper & Jesse Ventura on the beach as Hillbilly Jim, Uncle Elmer, & Cousin Junior were seen in the ocean tubing; the opening segment was set to Dire Straits' "The Walk of Life;" featured Vince McMahon & Jesse Ventura on commentary, with Bobby Heenan subbing for Ventura during the opening contest; included Okerlund conducting an interview in the arena with Roddy Piper, Ventura, & Bob Orton Jr. regarding their upcoming match against the hillbillies; featured footage of Piper and Ventura insulting Elmer's wedding at the second Saturday Night's Main Event; included Okerlund conducting an interview in the arena with Jim, Elmer, & Junior regarding their upcoming match; featured footage of Okerlund at a water park hosting a water slide competition between the Junkyard Dog and Jimmy Hart, which JYD won; the opening of the segment was set to A-ha's "Take On Me;" moments after the competition, Ventura interviewed Funk at poolside, during which Funk said he would take Hogan's title and would make the cover of Sports Illustrated, as Hogan had done; included footage from the Nov. 15 match in Denver, CO between Hogan and Funk, narrated by Gorilla Monsoon, after which Funk attacked Hogan with his branding iron; featured Okerlund conducting an interview in the arena with Hogan regarding his upcoming match, with Hogan introducing JYD who would be in his corner for the title defense; included a video package highlighting the history of George Steele since his appearance at the first Saturday Night's Main Event, with the opening moments set to Simple Minds' "Don't You Forget About Me;" featured footage of Okerlund, Steele, & Capt. Lou Albano at the water park; included Ventura conducting an interview with Randy Savage & Miss Elizabeh at the water park about his upcoming match, during which Savage pushed Elizabeth into the pool; featured footage of Hogan and Okerlund at the pool introducing a music video of highlights from 1985, set to Billy Ocean's "When the Going Gets Tough, the Tough Get Going;" included Okerlund conducting an interview in the arena with Nikolai Volkoff & Freddie Blassie regarding Volkoff's upcoming match with Cpl. Kirchner, during which the Iron Sheik appeared; featured Ventura conducting an interview with Kirchner at the water park, as highlights of his military training were shown, before riding a zipline into the pool; included footage of Don Muraco's recent attacks on Ricky Steamboat; featured footage of Muraco at the water park with several women to the tune of Katrina & the Waves' "Walking on Sunshine;" included Okerlund conducting an interview in the arena with Muraco & Mr. Fuji regarding their upcoming match, during which Fuji said people eat dog in his country, referring to JYD; featured Okerlund conducting an interview in the arena with Steamboat & JYD regarding their upcoming match; included "When the Going Gets Tough..." as the closing theme song:
Roddy Piper, Bob Orton, & Jesse Ventura defeated Hillbilly Jim, Uncle Elmer, & Cousin Luke at around the 8-minute mark when Junior passed out in Piper's sleeper after Orton hit Junior in the back of the head behind the referee's back with his arm cast; after the bout, Ventura returned to the broadcast booth and was congratulated by Bobby Heenan (WWF's Explosive TNT Show)
WWF World Champion Hulk Hogan (w/ the Junkyard Dog) pinned Terry Funk (w/ Jimmy Hart) with a lariat at 8:30 after Funk argued with referee Dave Hebner, arguing he had Hogan down for 3 after Hart interfered and hit the champion in the midsection with the branding iron as Hogan attempted to suplex Funk into the ring, with Funk falling on top for the cover; after the commercial break, Funk was seen dragging Hart backstage after Hart sustained a headbutt from the JYD; Gene Okerlund conduted an in-ring interview with Hogan & JYD after the contest (Hulk Hogan: The Ultimate Anthology Wal-Mart exclusive 4th disc, Best of Saturday Night's Main Event)
Championship Wrestling - 1/25/86: Randy Savage (w/ Miss Elizabeth) pinned George Steele (w/ Capt. Lou Albano) at 4:06 with a double axe handle after Steele became distracted by Elizabeth; Dean Malenko was the referee for the bout; after the contest, Savage carried Elizabeth over his shoulder backstage (Macho Man Randy Savage & Elizabeth, George "The Animal" Steele)
Championship Wrestling - 1/18/86: Nikolai Volkoff (w/ Freddie Blassie & the Iron Sheik) pinned Cpl. Kirchner in a Peace Match at 4:32 with a kneedrop to the chest after refusing to break clean against the ropes and dropping Kirchner throat-first across the top rope; prior to the bout, the two men shook hands; the contest was devised to see which man had the better scientific skills; Dean Malenko was the referee for the match; after the contest, Kirchner attacked both Volkoff and Sheik and cleared them from the ring
The Junkyard Dog & Ricky Steamboat defeated Don Muraco & Mr. Fuji at 5:19 when JYD pinned Fuji with a kick to the midsection and a headbutt; after the match, Steamboat and Muraco continued to brawl briefly until Muraco & Fuji left ringside
WWF @ Phoenix, AZ - Veterans Memorial Coliseum - February 15, 1986
Saturday Night's Main Event #5 - 3/1/86 on NBC (10.0) - featured Vince McMahon & Jesse Ventura on commentary; included the debut of Hulk Hogan's "Real American" music video:
Mr. T defeated Bob Orton (w/ Roddy Piper) via count-out at the 1-minute mark of the 2nd round of a boxing match after fighting off both Orton and Piper and knocking Orton over the top rope with an uppercut; after the bout, Piper attacked Mr. T from behind and began whipping him with his belt (Best of Saturday Night's Main Event)
King Kong Bundy (w/ Bobby Heenan) pinned Steve Gatorwolf with the Avalanche at the 41-second mark; after the bout, Bundy stole the microphone from Howard Finkel and said he wanted Hulk Hogan
WWF World Champion Hulk Hogan defeated Don Muraco (w/ Bobby Heenan who filled in for a sick Mr. Fuji) via disqualification at 6:53 when Heenan prevented the pinfall following the legdrop; after the bout, King Kong Bundy came to the ring and brutally attacked the champion, giving him three Avalanches in the corner and two splashes - one on Hogan's chest and the other on his back, until the British Bulldogs and Pedro Morales made the save; moments later, the champion was taken from ringside to a local hospital; later in the broadcast, Gene Okerlund interviewed Dr. Bob Ponavich outside the hospital
WWF Tag Team Champions Greg Valentine & Brutus Beefcake (w/ Johnny V) defeated Davey Boy Smith & the Dynamite Kid (w/ Capt. Lou Albano) when Valentine pinned Dynamite at around 12:00 after both men were knocked down from a double shoulderblock, with Valentine's leg landing on top of Dynamite for the win; Valentine & Beefcake came to the ring to Queen's "We Are the Champions"
The Junkyard Dog pinned Adrian Adonis (w/ Jimmy Hart) at around 8:45 after Adonis ran into Hart on the apron, who was holding up the megaphone to use on JYD; after the bout, Adonis attacked JYD with the megaphone (Legends of Wrestling Collection, Legends of Wrestling: Jerry Lawler and the Junkyard Dog)
WWF @ Providence, RI - Civic Center - May 1, 1986
Saturday Night's Main Event #6 - 5/3/86 on NBC (9.3) - featured Vince McMahon & Bobby Heenan on commentary; included footage of Gene Okerlund and Paul Orndorff in a sauna; featured Gene Okerlund and WWF World Champion Hulk Hogan in the empty arena before the show in which they discussed the injury Hogan sustained at the previous Saturday Night's Main Event against King Kong Bundy and then the match between the two at WrestleMania II:
WWF World Champion Hulk Hogan & the Junkyard Dog (w/ Haiti Kid) defeated Terry & Dory Funk Jr. (w/ Jimmy Hart) when Hogan pinned Terry with a clothesline and the legdrop at around 13:30; midway through the contest, Hart nailed Haiti in the head with the branding iron - causing the Junkyard Dog to take him backstage for treatment before Haiti returned ringside; after the bout, Hogan & JYD saved Haiti from further injury (Jimmy Jack Funk's debut) (Saturday Night's Main Event: The Greatest Hits)
King Kong Bundy pinned Uncle Elmer at 2:35 with an elbow drop after Elmer missed a splash in the corner
Adrian Adonis (w/ Jimmy Hart) defeated Paul Orndorff via disqualification at around the 12-minute mark when Orndorff began choking Adonis with his own shirt before shoving the referee across the ring
Jake Roberts fought Ricky Steamboat to a no contest when Roberts attacked Steamboat before the bell and executed the DDT on the concrete floor before rolling Steamboat back inside the ring and allowing his snake to crawl all over Steamboat until a number of officials swarmed the ring; after the bout, Steamboat was taken from ringside on a stretcher while his wife looked on from ringside (Jake "The Snake" Roberts)
WWF Tag Team Champions Davey Boy Smith & the Dynamite Kid (w/ Capt. Lou Albano) defeated Nikolai Volkoff & the Iron Sheik (w/ Freddie Blassie) in a Best 2 out of 3 falls match, 2-1; fall #1 - Smith submitted to Sheik's Camel Clutch at 1:28 after sustaining a back suplex; fall #2 - Smith pinned Volkoff with a roll up at 5:58 after sending Volkoff into Sheik on the apron after Volkoff thought he had scored the pinfall; fall #3 - Smith, the illegal man, pinned Sheik with an inside cradle after breaking Sheik's Camel Clutch on Dynamite behind the referee's back at 9:10; Smith worked the majority of the contest by himself due to the Dynamite Kid's knee injury sustained at WrestleMania II
WWF @ Richfield, OH - Coliseum - September 13, 1986 (21,000)
Saturday Night's Main Event #7 - 10/4/86 on NBC (9.4) - featured opening comments from Jesse Ventura, Jake Roberts, Johnny V, Brutus Beefcake & Greg Valentine, Kamala & the Wizard, Paul Orndorff & Bobby Heenan, and WWF World Champion Hulk Hogan regarding the upcoming matches; included Animotion's "Obsession" as the opening theme song; featured Vince McMahon & Ventura on commentary; included Gene Okerlund conducting a backstage interview with Roddy Piper, during which it was announced Piper wasn't allowed to wrestle due to the injury he sustained from Adrian Adonis, Don Muraco, & Bob Orton Jr.; Piper then cut a promo saying he would wrestle if he wanted to; featured a promo by Hogan regarding his upcoming match with Orndorff; included Okerlund conducting a backstage interview with Orndorff & Heenan regarding the upcoming match with Hogan; featured Okerlund conducting a backstage interview with Roberts regarding his upcoming match with Ricky Steamboat, during which the two reviewed footage from the previous Saturday Night's Main Event in which Roberts attacked Steamboat and dropped him with the DDT on the floor and of Steamboat pinning Roberts at Toronto's CNE Stadium; included Steamboat cutting a backstage promo on his upcoming match with Roberts, during which he showed off his komodo dragon; featured Okerlund conducting a backstage interview with Hogan regarding his title defense; included footage from before the show of Ventura conducting an interview with Slick & the Iron Sheik arriving to the arena regarding Sheik not facing Piper as scheduled; featured Okerlund conducting a backstage interview with Johnny V, Beefcake & Valentine regarding their upcoming tag team title shot, during which footage was shown of their title loss to Davey Boy Smith & the Dynamite Kid at WrestleMania 2; included Okerlund conducting a backstage interview with Piper regarding his facing the Sheik despite injury, with Piper then cutting a promo on Adrian Adonis; featured Okerlund conducting a backstage interview with Smith & Dynamite regarding their upcoming title defense; featured Okerlund conducting a backstage interview with Kamala, the Wizard, & Kimchee regarding Kamala's return to the WWF; included Phil Collins' "Take Me Home" as the closing theme music:
WWF World Champion Hulk Hogan defeated Paul Orndorff via disqualification at around the 10-minute mark when Adrian Adonis, dressed in drag, attacked Hogan as the champion prepared to drop Orndorff with the piledriver; Orndorff used "Real American" as his theme music for the bout; after the challenger's entrance, Gene Okerlund attempted to interview Hogan backstage but Hogan pushed him aside and went out to the ring; Bobby Heenan was in Orndorff's corner early on but was ejected by the referee and carried from ringside by security mid-way through the match after constant interference; Heenan was then locked in a room backstage; after the contest, an injured Roddy Piper came out on his crutch and cleared Orndorff and Adonis from the ring before almost coming to blows with Hogan (Adonis' last appearance for 2 months)
Ricky Steamboat pinned Jake Roberts in a snake pit match at 6:19 with a crucifix; after the bout, Roberts attacked Steamboat and repeatedly rammed him into the ringpost and went for Damien but Steamboat scared him out of the ring with the komodo dragon he brought ringside before the contest (Best of Saturday Night's Main Event)
Roddy Piper pinned the Iron Sheik (w/ Slick) at the 43-second mark with a small package and grabbing the tights for leverage after blocking a suplex attempt; Pedro Morales was scheduled to be Piper's replacement, due to injury, but Piper came out and threatened Morales with his crutch to go backstage (Born to Controversy: The Roddy Piper Story)
WWF Tag Team Champions Davey Boy Smith & the Dynamite Kid defeated Brutus Beefcake & Greg Valentine (w/ Johnny V) in a Best 2 out of 3 falls match; fall #1: Valentine defeated Dynamite via submission with the figure-4 at 4:41 after Beefcake knocked Smith to the floor; after the fall, Gene Okerlund backstage said medical personnel were tending to Adrian Adonis' injured arm as a result of Roddy Piper hitting it with his crutch earlier in the show; fall #2: Dynamite pinned Valentine at 3:29 with a diving headbutt off Beefcake's back, who was caught in a fireman's carry by Smith; fall #3: Smith pinned Beefcake with a fisherman's suplex at 4:59 after Beefcake injured his knee attempting a running kneelift in the corner; during the fall, Jesse Ventura announced Adonis sustained a shattered elbow as a result of Piper's attack
Kamala (w/ the Wizard & Kimchee) pinned Lanny Poffo at 1:44 with a splash; after the match, Kamala went up to the top rope to hit another splash but was talked down by his handlers
WWF @ Los Angeles, CA - Sports Arena - November 15, 1986 (16,000; sell out) (matinee)
Saturday Night's Main Event #8 - 11/29/86 on NBC (9.7) - included opening comments from Jesse Ventura, Jake Roberts, WWF IC Champion Randy Savage & Miss Elizabeth, Koko B. Ware, Roddy Piper, Jimmy Hart, Bret Hart & Jim Neidhart, and WWF World Champion Hulk Hogan regarding their upcoming matches; featured Animotion's "Obsession" as the opening theme music; featured Vince McMahon & Jesse Ventura on commentary; included Gene Okerlund conducting a backstage interview with Roberts regarding his upcoming match with Savage; featured Okerlund conducting a backstage interview with Savage & Elizabeth regarding Savage's upcoming match against Roberts; included footage of Bobby Heenan purchasing Hercules' contract from Slick; featured Okerlund conducting a backstage interview with Heenan & Hercules regarding Hercules' upcoming match against Hogan; included Okerlund conducting a backstage interview with Hogan regarding his upcoming title defense against Hercules; featured a promo from Piper regarding his upcoming match with Bob Orton Jr.; included footage from earlier in the day of Ventura conducting an interview with Orton & Hart at a local restaurant regarding Orton's upcoming match with Piper and Piper's attack at the previous Saturday Night's Main Event on Adrian Adonis, followed by a video package detailing the history of Piper and Orton to the tune of Clarence Clemons & Jackson Browne's "You're a Friend of Mine;" featured Okerlund conducting a backstage interview with Piper regarding his upcoming match; included Okerlund conducting a backstage interview with Piper regarding his win over Orton, during which Piper said the battle against Don Muraco, Orton, and Adonis had just begun; featured Okerlund conducting a backstage interview with Koko regarding his upcoming match with Nikolai Volkoff; included Ventura conducting a backstage interview with Volkoff & Slick; featured Okerlund conducting a backstage interview with Hogan regarding his victory; included Okerlund conducting a backstage interview with Don Muraco & Mr. Fuji regarding his upcoming match with Dick Slater; featured Phil Collins' "Take Me Home" as the closing theme music:
WWF IC Champion Randy Savage (w/ Miss Elizabeth) fought Jake Roberts to a double disqualification at around the 9:30 mark after both men pushed referee Dave Hebner out of the way; after the contest, Roberts scared Savage from the ring with Damien after Savage tried to get at him with a chair; Roberts was heavily cheered over Savage during the match (Best of Saturday Night's Main Event)
Prime Time Wrestling - 12/23/86: WWF World Champion Hulk Hogan pinned Hercules (w/ Bobby Heenan) at around 6:30 with a boot to the face and the legdrop; late in the bout, Hercules applied his backbreaker submission on the champion but released the hold, thinking Hogan had submitted (Wrestling Super Heroes)
Roddy Piper pinned Bob Orton Jr. (w/ Jimmy Hart) at 3:48 with a roll up after a miscommunication with Hart and Orton on the ring apron; Don Muraco was in Orton's corner early in the bout but was sent backstage by security during the match (Born to Controversy: The Roddy Piper Story, Legends of Wrestling: Roddy Piper and Terry Funk)
B. Brian Blair & Jim Brunzell defeated Bret Hart & Jim Neidhart (w/ Jimmy Hart) at around the 9-minute mark when Brunzell pinned Bret with an inside cradle after switching places in the ring with Blair behind the referee's back; mid-way through the contest, Blair & Brunzell put on their masks; during the opening moments, footage was shown of Gene Okerlund conducting a backstage interview with the Hart Foundation regarding their upcoming match and their hunt for the WWF Tag Team Titles as well as a backstage interview with Blair & Brunzell, each wearing their masks
Koko B. Ware pinned Nikolai Volkoff (w/ Slick) at around the 2:30 mark with a roll up as Volkoff spoke with Slick on the floor
Don Muraco (w/ Mr. Fuji) pinned Dick Slater at 2:05 with a clothesline, moments after Fuji tripped Slater from the floor
WWF @ Hartford, CT - Civic Center - December 14, 1986 (10,000)
Saturday Night's Main Event #9 - 1/3/87 on NBC (10.6) - featured Vince McMahon & Jesse Ventura on commentary:
WWF World Champion Hulk Hogan defeated Paul Orndorff (w/ Bobby Heenan) in a steel cage match at 10:42 by exiting over the top after hitting the legdrop on the challenger and sending an interfering Heenan into the cage; both men simultaneously left the cage from opposite sides of the ring earlier in the bout, with referee Joey Marella naming Hogan the winner and referee Danny Davis naming Orndorff the winner; moments later, Orndorff attacked Hogan from behind, with Davis being knocked out and helped backstage; moments later, Marella ruled the decision a tie and ordered the bout to continue (Hulkamania 2, Saturday Night's Main Event: The Greatest Hits, WWF Wrestling's Greatest Steel Cage Matches Ever!, The History of the WWE Heavyweight Championship, Best of Saturday Night's Main Event)
WWF IC Champion Randy Savage (w/ Miss Elizabeth) pinned George Steele at around 8:30 after hitting him with the timekeeper's bell; during the bout, Ricky Steamboat came ringside as a surprise of Steele's; moments later, Steele carried Elizabeth backstage and Steamboat was then escorted from ringside by referees and security, with Steele returning to the ring shortly thereafter; after the bout, Steamboat returned to the ring to make the save as Savage prepared to come off the top with the ring bell onto Steele's throat
Prime Time Wrestling - 2/2/87: The Junkyard Dog defeated King Harley Race (w/ Bobby Heenan) via disqualification at 6:00 when Heenan interfered and attacked JYD after the Dog put on Race's crown and robe; moments later, JYD fought off a double team from Race and Heenan, knocking Heenan to the floor and accidentally headbutting referee Danny Davis when Race moved out of the way (Legends of Wrestling Collection, Legends of Wrestling: Jerry Lawler and the Junkyard Dog)
Adrian Adonis (w/ Jimmy Hart) defeated Roddy Piper via count-out at 3:35 after spraying perfume into Piper's eyes
Blackjack Mulligan pinned Jimmy Jack Funk with a flying back elbow at 2:31
WWF @ Detroit, MI - Joe Louis Arena - February 21, 1987 (21,000)
Saturday Night's Main Event #10 - 3/14/87 on NBC (11.6) - included opening comments from WWF World Champion Hulk Hogan, Andre the Giant & Bobby Heenan, Miss Elizabeth, WWF Tag Team Champions Bret Hart & Jim Neidhart with Jimmy Hart, and Jake Roberts regarding the upcoming matches; featured Animotion's "Obsession" as the opening theme song; included Vince McMahon & Jesse Ventura on commentary; featured Gene Okerlund conducting a backstage interview with Hogan regarding his participation in the upcoming 20-man battle royal and facing Andre in the match; included footage from the George Steele vs. WWF IC Champion Randy Savage match at the previous Saturday Night's Main Event; featured Okerlund conducting a backstage interview with Savage & Elizabeth regarding Savage's upcoming match with Steele and having both his title and manager on the line; after Savage went out to the ring, Okerlund continued to interview Elizabeth, with Steele then appearing; included backstage footage of Hogan preparing for the battle royal and repeating Andre's name; featured Okerlund conducting a backstage interview with Andre & Heenan regarding Andre's participation in the battle royal, during which Heenan said Andre would eliminate Hogan from the match; included Okerlund conducting a backstage interview with Roberts regarding his upcoming match with King Kong Bundy; featured footage of Bret Hart & Jim Neidhart winning the WWF Tag Team Titles from Davey Boy Smith & the Dynamite Kid; included Okerlund conducting a backstage interview with Jimmy Hart, Hart & Neidhart regarding their controversial title win, their upcoming first title defense, and Danny Davis being their official observer at ringside; featured a promo by Ricky Steamboat regarding his upcoming match; included Okerlund conducting a backstage interview with Steamboat regarding his upcoming match against the Iron Sheik; featured Okerlund conducting a backstage interview with Hogan regarding his upcoming match with Andre at WrestleMania III; included Okerlund conducting a backstage interview with Roddy Piper regarding his upcoming retirement at WrestleMania, with Okerlund then introducing a tribute video to Piper set to Frank Sinatra's "My Way;" Phil Collins' "Take Me Home" was the closing theme song:
WWF IC Champion Randy Savage (w/ Elizabeth) defeated George Steele via count-out at around the 4:30 mark after hitting Steele on the floor with the lifeguard chair Elizabeth sat in for the duration of the contest; pre-match stipulations stated the winner would walk away with Elizabeth as their manager; prior to the contest, Savage attempted to lead Elizabeth from her chair to the backstage area but was cut off by Ricky Steamboat, who blocked Savage's way; after the contest, Steele hugged a poster of Elizabeth in the ring (Saturday Night's Main Event: The Greatest Hits)
Hercules (w/ Bobby Heenan) won a 20-man battle royal at 11:16 by last eliminating Billy Jack Haynes after Haynes grabbed for Heenan on the ring apron; other participants included: WWF World Champion Hulk Hogan, Andre the Giant (w/ Bobby Heenan), Ron Bass, B. Brian Blair & Jim Brunzell, Demolition, the Islanders, Billy Jack Haynes, Hillbilly Jim, the Honkytonk Man (w/ Jimmy Hart), Blackjack Mulligan, Paul Orndorff, Lanny Poffo, Butch Reed, Sika, Nikolai Volkoff, & Koko B. Ware; order of elimination: Honky by Hogan via a bodyslam (0:33); Sika by Andre (0:57); Haku by Andre (1:37); Poffo by Andre after a headbutt (1:49); after his elimination, Poffo - who was busted open by Andre and bled profusely - was taken backstage on a stretcher; Bass by Hogan via a backdrop (3:41); Mulligan by Andre via a hiptoss (3:47); Volkoff by Hogan (4:05); Blair by Andre after a series of headbutts (4:24); Orndorff by Hogan via a bodyslam (5:59); Hogan by Andre after a headbutt from behind (6:09); Brunzell by Andre (7:36); Andre by Jim, Haynes, Demolition, Reed, Koko, Tama, & Hercules (8:08); Tama by Hercules (8:17); Ax by Jim (8:21); Jim by Smash & Hercules (8:39); Reed by Koko via a dropkick from behind (9:07); Koko by Hercules (10:03); Smash by Haynes via a clothesline (10:55); after the match, Gene Okerlund conducted a backstage interview with Andre, and later Heenan, about eliminating Hogan and it having to take eight men to eliminate him (WrestleMania III Championship Edition, Best of Saturday Night's Main Event)
King Kong Bundy (w/ Bobby Heenan) defeated Jake Roberts via disqualification at 6:14 after Roberts kneed the referee when the ref attempted to prevent Roberts from grabbing the bag that contained Damien; after the bout, Heenan - who had been chased from ringside earlier - returned to help Bundy out of the ring after recieving the DDT (Jake "The Snake" Roberts)
WWF Tag Team Champions Bret Hart & Jim Neidhart (w/ Jimmy Hart & Danny Davis) defeated Tito Santana & Danny Spivey at 5:31 when Bret pinned Santana after Davis hit Santana with Jimmy's megaphone behind the referee's back as Santana had Bret caught in the figure-4
Ricky Steamboat pinned the Iron Sheik (w/ Slick) at 3:29 with a bodyslam and karate chop off the top; prior to the bout, WWF IC Champion Randy Savage appeared and confronted Steamboat on the ring apron before he was forced from ringside and joined the commentary team; after the contest, Savage challenged Steamboat to come out to the commentary table; Steamboat tried to get at Savage but was held back by referees
WWF @ South Bend, IN - Joyce Athletic & Convocation Center - April 28, 1987 (9,345)
Saturday Night's Main Event #11 - 5/2/87 on NBC (9.5) - featured pre-taped comments from Randy Savage, WWF IC Champion Ricky Steamboat, Jimmy Hart, Danny Davis, and WWF Tag Team Champions Bret Hart & Jim Neidhart, Jim Duggan, Andre the Giant & Bobby Heenan, and WWF World Champion Hulk Hogan regarding the upcoming telecast; included Animotion's "Obsession" as the opening theme song; featured Vince McMahon & Jesse Ventura on commentary; included footage from earlier in the day on WWF Superstars of Ken Patera injuring Heenan, causing him to have to wear a neckbrace; featured Gene Okerlund conducting a backstage interview with Kamala, Mr. Fuji, & Kimchee regarding Kamala's upcoming match with Jake Roberts; included footage of the Honkytonk Man attacking Roberts during the Snake Pit, followed by Okerlund conducting a backstage interview with Roberts regarding his upcoming match; featured Okerlund conducting a backstage interview with George Steele regarding his lumberjack match with Savage; moments later, Steamboat spoke with Okerlund backstage and said he would be there to support Steele since Steele helped him at WrestleMania III; included Okerlund conducting a backstage interview with Savage & Miss Elizabeth regarding his IC title loss and his upcoming match with Steele; featured Okerlund conducting a sit-down interview with Heenan & Andre regarding Andre's match with Hogan at WrestleMania III, with Heenan arguing Andre's near fall within the opening moments of the match should have earned Andre the title; Heenan then said WWF President Jack Tunney should strip Hogan of the title and award it to Andre or schedule a rematch; included Okerlund conducting a backstage interview with Davis, Jimmy Hart, Bret & Neidhart regarding their controversial title win and controversial win at WrestleMania; during the segment, Davis lunged at Okerlund until he was dragged off by the Hart Foundation; featured Okerlund conducting an interview with Hogan regarding the outcome of his match with Andre at WrestleMania III; included Okerlund conducting a backstage interview with Steamboat regarding his upcoming title defense against Hercules; featured Okerlund conducting an interview with Duggan in the audience, with Duggan saying he bought a ticket to guarantee he would be ringside should Nikolai Volkoff attempt to sing the Russian National Anthem; included Slick, Volkoff, & the Iron Sheik conducting an insert promo regarding their upcoming match; featured Phil Collins' "Take Me Home" as the closing theme song:
Kamala (w/ Mr. Fuji & Kimchee) pinned Jake Roberts at 4:18 with a splash after Kimchee interfered as the referee was distracted by Fuji and hit a clothesline to the back of the head of Roberts; after the match, Kimchee climbed back in the ring and took off his costume to reveal himself as the Honkytonk Man, who then dropped several elbows on Roberts before dropping him with the Shake, Rattle, & Roll; Honky then took the mic and thanked the fans for their support before leaving ringside (Jake "The Snake" Roberts)
Randy Savage (w/ Miss Elizabeth) pinned George Steele in a lumberjack match at 6:44 with the flying elbowsmash after Danny Davis, one of the lumberjacks, climbed in the ring and hit Steele from behind with the timekeeper's bell as the other lumberjacks fought on the floor; lumberjacks for the bout included Davis, WWF IC Champion Ricky Steamboat, Hercules, Jake Roberts, Jim Duggan, Kimchee, the Honkytonk Man, WWF Tag Team Champions Bret Hart & Jim Neidhart, the Dynamite Kid & Davey Boy Smith, Tito Santana, Rick Martel & Tom Zenk, the Iron Sheik & Nikolai Volkoff; prior to the match, Hercules and Steamboat and the Hart Foundation and the British Bulldogs almost came to blows; Duggan was ejected from ringside at around the 4-minute mark after chasing several of the other lumberjacks in and around the ring with his 2x4; after the contest, the lumberjacks brawled in the ring until Jake Roberts appeared, his ribs taped, and cleared Kimchee from the ring with Damien; the bout was announced to be the last meeting between Savage and Steele
Davey Boy Smith & the Dynamite Kid (w/ Tito Santana) defeated WWF Tag Team Champions Bret Hart & Jim Neidhart (w/ Jimmy Hart & Danny Davis) in a Best 2 out of 3 falls match, 2-0; fall #1: the challengers won via disqualification at 4:34 when Neidhart, the illegal man, joined in double teaming Dynamite and refused to listen to referee Joey Marella's orders to leave the ring; fall #2: Dynamite pinned Neidhart at 9:48 after Smith press slammed his partner onto the champion; the titles remained with the champions because the first fall ended on a disqualification (Best of Saturday Night's Main Event)
WWF IC Champion Ricky Steamboat defeated Hercules (w/ Bobby Heenan) via disqualification at 6:42 when Hercules began choking the champion with his steel chain; prior to the bout, Randy Savage was shown watching the match backstage with Miss Elizabeth and Gene Okerlund, with Savage saying he wanted to see Steamboat keep the belt so he could take it from him personally; Steamboat was shown cheering Steamboat on during the bout in an insert; Savage appeared ringside midway through the bout and grabbed Hercules' foot as Steamboat was caught in the full nelson, causing Hercules to release the hold; after the contest, Savage went to check on Steamboat before he dropped the flying elbowsmash on the champion
Rick Martel & Tom Zenk defeated Nikolai Volkoff & the Iron Sheik (w/ Slick) at 4:45 when Martel pinned Sheik with a roll up as Jim Duggan, who sat ringside for the match, brawled with Volkoff inside the ring; after the bout, Duggan was knocked to the floor before he Martel & Zenk cleared the ring of the opposition
WWF @ Hershey, PA - Hersheypark Arena - September 23, 1987 (9,000)
Saturday Night's Main Event #12 - 10/3/87 on NBC (9.7); featured opening comments from WWF IC Champion the Honkytonk Man & Jimmy Hart, Randy Savage & Miss Elizabeth, King Kong Bundy & Bobby Heenan, Sika & Mr. Fuji, and WWF World Champion Hulk Hogan regarding the upcoming matches; featured Animotion's "Obsession" as the opening theme song; featured Vince McMahon & Heenan on commentary, with Heenan implying he had a big surprise for later in the show; included Gene Okerlund conducting a backstage interview with Honky & Hart regarding Honky's upcoming match with Savage and opting to go out to the ring first instead of the challenger; featured Okerlund conducting a backstage interview with Savage & Elizabeth regarding the upcoming match with Honky; included Okerlund conducting a backstage interview with Fuji & Sika regarding Sika's upcoming match with Hogan, with Fuji claiming Hogan was tired after helping Savage earlier in the show and would be easy prey; featured Okerlund conducting a backstage interview with Hogan regarding his altercation with Savage and upcoming title defense; included Okerlund conducting a backstage interview with Paul Orndorff & Sir Oliver Humperdink regarding Orndorff's upcoming match with Bundy; featured Okerlund conducting a backstage interview with Bundy regarding his upcoming match with Orndorff; included Okerlund conducting a backstage interview with WWF Tag Team Champions Bret Hart & Jim Neidhart regarding their upcoming title defense and attack on Randy Savage earlier in the show, with Okerlund walking off out of disgust of their actions; featured Okerlund conducting a backstage interview with Hogan and Savage regarding their newfound association, during which they were referred to as the Mega Powers; included the world premiere of Koko B. Ware's "Piledriver" music video, with appearances from most of the WWF talent, Vince McMahon, and Arnold Skaaland, with added clips of Koko in the ring with Frankie; featured Tammy Wynette's "Stand By Your Man" as the closing theme song, put to clips of Savage & Elizabeth from earlier in the show:
Randy Savage (w/ Miss Elizabeth) defeated WWF IC Champion the Honkytonk Man via disqualification at around the 13-minute mark when WWF Tag Team Champion Bret Hart broke the cover after Savage hit the flying elbowsmash on the champion; Jimmy Hart was in Honky's corner early in the match but was helped backstage by Honky, Hart, and WWF Tag Team Champion Jim Neidhart after Savage knocked Jimmy to the floor; after taking him backstage, the tag team champions remained in Honky's corner; after the contest, Savage was triple teamed before Bret & Neidhart held Savage so Honky could hit him over the head with the guitar, with Elizabeth then standing in Honky's way before he pushed her to the mat; moments later, Elizabeth returned backstage with Honky then breaking the guitar over Savage's head; as the triple team continued, Elizabeth returned with WWF World Champion Hulk Hogan, with Hogan and Savage clearing the ring before facing off; moments later, Savage extended his hand to Hogan with Hogan shaking it; Hogan, Savage, and Elizabeth then celebrated in the ring (Saturday Night's Main Event: The Greatest Hits, Best of Saturday Night's Main Event)
WWF World Champion Hulk Hogan pinned Sika (sub. for Kamala) (w/ Mr. Fuji & Kimchee) at 7:59 with a bodyslam and the legdrop; after the bout, Hogan knocked Fuji and Kichee to the floor
King Kong Bundy pinned Paul Orndorff (w/ Oliver Humperdink) at around the 8-minute mark when Andre the Giant, from the floor, pulled Orndorff into the corner allowing for Bundy to hit the Avalanche; Andre appeared ringside mid-way through the bout after Bobby Heenan left the broadcast booth as Orndorff was dominating the match; after Andre appeared, Heenan returned to the broadcast booth
WWF Tag Team Champions Bret Hart & Jim Neidhart (w/ Jimmy Hart) defeated Paul Roma & Jim Powers at 4:35 when Bret pinned Roma after the champions hit the Hart Attack behind the referee's back; Jimmy Hart was not in the champions' corner because of the injury he sustained from Randy Savage earlier in the show
WWF @ Seattle, WA - Coliseum - November 11, 1987 (16,000)
Saturday Night's Main Event #13 - shown 11/28/87 on NBC - featured opening comments from Randy Savage with Miss Elizabeth, King Kong Bundy & Bobby Heenan, and WWF World Champion Hulk Hogan regarding the upcoming matches; included Animotion's "Obsession" as the opening theme song; featured footage of Danny Davis hitting George Steele from behind during the April Saturday Night's Main Event; included Gene Okerlund conducting a backstage interview with George Steele regarding his upcoming match against Davis, during which Steele was shown playing with Miss Elizabeth's LJN doll; featured Jesse Ventura conducting a backstage interview with Davis regarding his upcoming match with Steele; included footage of WWF Tag Team Champion Bret Hart costing Savage the IC title at the previous SNME; featured Okerlund conducting a backstage interview with Bret, WWF Tag Team Champion Jim Neidhart, & Jimmy Hart regarding Bret's upcoming match with Savage; included footage of Honky shoving Elizabeth to the mat during the previous SNME; featured Okerlund conducting a backstage interview with Savage & Elizabeth regarding Savage's upcoming match with Bret; included Okerlund conducting a backstage interview with Bundy & Heenan regarding Bundy's upcoming match with Hogan, during which Heenan implied he had a huge surprise; featured Okerlund conducting a backstage interview with Hogan regarding the challenge of Bundy and Andre being in his corner; included Okerlund conducting a backstage interview with Hercules regarding his upcoming match with Bam Bam Bigelow and the fact Heenan wouldn't be in his corner due to the injury he sustained from Hogan; featured Okerlund conducting a backstage interview with Bigelow & Humperdink regarding Bigelow's upcoming match with Hercules; included Okerlund conducting a backstage interview with Bundy & Andre in which Bundy said he wanted a rematch against Hogan, with Andre in Bundy's corner; moments later, Ventura appeared and shook Bundy's hand to congratulate him on his win; featured Okerlund conducting a backstage interview with Hogan regarding his loss to Bundy, during which Hogan accepted Bundy's challenge to a rematch; included Phil Collins' "Take Me Home" as the closing theme music:
George Steele defeated Danny Davis via disqualification at 3:49 when Davis kicked referee Joey Marella as Steele had Davis caught in the flying hammerlock; earlier in the match, Davis attacked Steele with a foreign object behind the referee's back; after the contest, Steele ripped open the turnbuckle pad and chased Davis backstage with his own weapon
Randy Savage (w/ Miss Elizabeth) pinned Bret Hart (w/ Jimmy Hart & Jim Neidhart) at 12:03 by blocking a bodyslam into the ring and reversing it into an inside cradle; prior to the bout, Brian Bosworth of the Seattle Seahawks was shown taking a front row seat; WWF IC Champion the Honkytonk Man cut an insert promo before the match in which he said he told Bret to save some of Savage for him; after the contest, Savage cleared Bret, Neidhart, & Hart from ringside with Hart's megaphone; moments later, the referee and Elizabeth helped an injured Savage backstage (Best of Saturday Night's Main Event)
King Kong Bundy (w/ Bobby Heenan) defeated WWF World Champion Hulk Hogan via count-out at around 13:45 when Heenan held the champion's leg, preventing him from reentering the ring, after the two men began brawling on the floor; prior to the bout, Heenan introduced Andre the Giant who would also be in Bundy's corner for the match; Marella called for the bell at 5:22 after Andre tripped Hogan, with Howard Finkel then announcing that if Andre didn't leave ringside immediately then Hogan would be awarded the match; as Andre relunctantly left ringside, he shoved a cameraman to the ground; after the bout, Hogan three times lifted Heenan in the air by his neck and dropped him, resulting in Heenan having to wear a neckbrace for several weeks thereafter (Hulkamania 3)
Bam Bam Bigelow (w/ Oliver Humperdink) (sub. for Jim Duggan) pinned Hercules at around the 7-minute mark with a gorilla press slam and slingshot splash into the ring; the match originally went to a double count-out at 3:07 but Bigelow grabbed the mic and challenged Hercules to continue the match until there was a winner, with Hercules agreeing (Saturday Night's Main Event: The Greatest Hits)
WWF @ Landover, MD - Capital Centre - December 7, 1987 (13,000)
Saturday Night's Main Event #14 - shown 1/2/88 on NBC - featured opening comments from Jake Roberts, Greg Valentine & Jimmy Hart, WWF Tag Team Champions Tito Santana & Rick Martel, Slick, Nikolai Volkoff & Boris Zhukov, Bobby Heenan, Andre the Giant, & King Kong Bundy, and WWF World Champion Hulk Hogan regarding the upcoming matches; included Animotion's "Obsession" as the opening theme song; featured Vince McMahon & Jesse Ventura on commentary; included Gene Okerlund conducting a backstage interview with Hogan regarding his upcoming title defense against Bundy, who would have Andre in his corner; featured Okerlund conducting a backstage interview with Slick, Volkoff & Zhukov regarding their upcoming tag team title match, during which Slick claimed he met with Mikhail Gorbachev the previous month in Washington DC; included footage of Santana & Martel winning the tag team titles from Bret Hart & Jim Neidhart in Syracuse, NY; featured Okerlund conducting a backstage interview with Santana & Martel regarding their title defense; included Okerlund conducting a backstage interview with Mr. Fuji & Sika, during which the two showed a hoagie roll and container of mustard, with Fuji claiming Sika would have Damien for dinner; featured Okerlund conducting a backstage interview with Roberts regarding his upcoming match; included Okerlund conducting a backstage interview with Bundy, Andre, & Heenan in which Heenan said he wouldn't be at ringside for Bundy's match against Hogan and Andre would be his replacement; featured footage of Hogan attacking Heenan at the previous Saturday Night's Main Event, which was credited with putting Heenan in a neckbrace; included Okerlund conducting a backstage interview with Hogan regarding his upcoming title defense; featured Ventura conducting a backstage interview with Valentine & Hart regarding the upcoming match with Koko B. Ware; included Okerlund conducting a backstage interview with Koko, with Frankie, with Koko saying he had received tips on Valentine from Brutus Beefcake; featured Okerlund conducting a backstage interview with Andre & Heenan regarding Andre's attack on Hogan and Andre's quest for the WWF World Title; included Okerlund and Ventura backstage commenting on Andre's attack and Hogan's injuries; featured Phil Collins' "Take Me Home" as the closing theme music:
WWF Tag Team Champions Rick Martel & Tito Santana defeated Nikolai Volkoff & Boris Zhukov (w/ Slick) at 7:55 in a Best 2 out of 3 falls match, 2-0; fall #1: Zhukov submitted to Martel's Boston Crab at 4:23; fall #2: Santana pinned Zhukov at 3:32 after Volkoff accidentally hit his partner with Slick's cane behind the referee's back, with Martel then knocking Volkoff out of the ring with a dropkick
Jake Roberts pinned Sika (w/ Mr. Fuji) at 3:35 with a roll up after Roberts avoided a charge in the corner; after the bout, Roberts knocked Sika to the floor and dropped Fuji with the DDT and covered him with Damien until Sika pulled his manager out of the ring
WWF World Champion Hulk Hogan pinned King Kong Bundy (w/ Andre the Giant) at 12:09 with the legdrop after Bundy hit the corner; the referee was helped backstage mid-way through the contest after Bundy hit him with the Avalanche in the corner, meaning to hit Hogan, with Dave Hebner then taking over the remainder of the contest; late in the contest, Hogan sustained two Avalanches and a splash but kicked out at 2; after the bout, Andre appeared as though he was going to fight Hogan but then left the ring, only to return moments later, attack Hogan from behind, and choke him until Hogan passed out; moments later, Davey Boy Smith & the Dynamite Kid attempted to make the save but were thrown to the floor by Andre before Andre went back to attacking Hogan; Jake Roberts, the Junkyard Dog, WWF Tag Team Champions Tito Santana & Rick Martel then appeared and tried to pull Andre away, with Jim Duggan then coming out and hitting Andre over the back, distracting him long enough for the other men to pull Hogan to safety; as Hogan was helped backstage, Andre held the title belt in the air inside the ring (Best of Saturday Night's Main Event)
Greg Valentine (w/ Jimmy Hart) defeated Koko B. Ware via submission with the figure-4 at around the 7:30 mark; Brutus Beefcake appeared ringside mid-way through the match but was sent backstage by referee Joey Marella; after the match, Valentine put Koko back in the hold until Beefcake came out to make the save, scaring Valentine backstage with his scissors and cutting some hair from Hart's head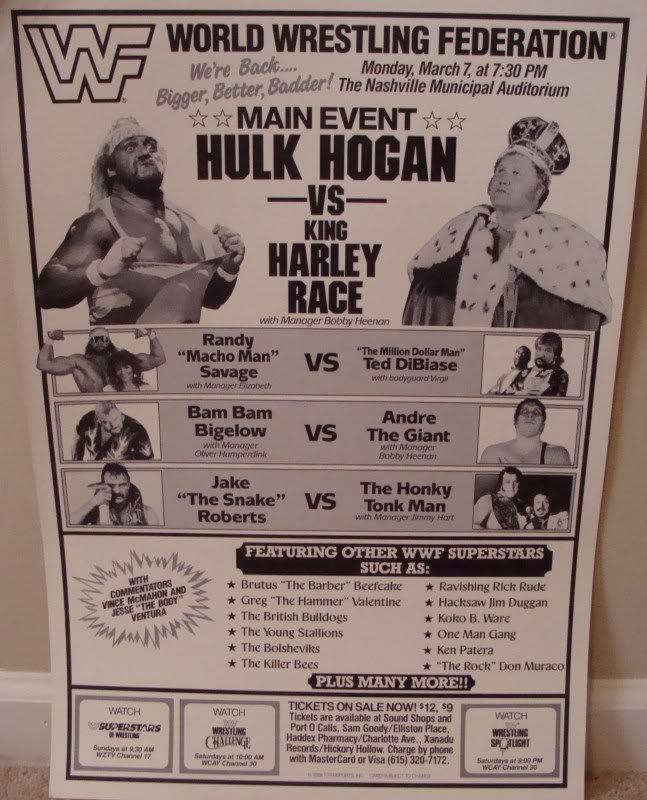 WWF @ Nashville, TN - Municipal Auditorium - March 7, 1988 (10,000; heavily papered; sell out)
Saturday Night's Main Event #15 - 3/12/88 on NBC (10.0); featured opening pre-taped comments from Randy Savage with Miss Elizabeth, Ted Dibiase with Virgil, Brutus Beefcake, the One Man Gang with Slick, King Harley Race with Bobby Heenan, and Hulk Hogan regarding their matches later in the show; featured Vince McMahon & Jesse Ventura on commentary; included footage from The Main Event of Andre the Giant's controversial win over WWF World Champion Hulk Hogan; featured Gene Okerlund conducting a backstage interview with Greg Valentine with Jimmy Hart regarding Valentine's upcoming match with Brutus Beefcake; included Okerlund conducting a backstage interview with Beefcake regarding his upcoming match; featured Okerlund conducting a backstage interview with Race and Heenan regarding Race's upcoming match with Hogan; included Okerlund conducting a backstage interview with Hogan regarding his upcoming match; featured Okerlund conducting a backstage interview with Dibiase, with Virgil, regarding his upcoming match with Savage, during which Dibiase said he would have a surprise in his corner; included footage of Savage and Elizabeth celebrating after Savage's match at The Main Event; featured Okerlund conducting a backstage interview with Savage, with Elizabeth, regarding his upcoming match; included Ventura conducting a backstage interview with Heenan & the Islanders, with Heenan wearing a beekeeper mask and with a dog collar; featured Okerlund conducting a backstage interview with the One Man Gang & Slick in which Slick said the US Olympic team was a bunch of losers; included Okerlund conducting a backstage interview with Hogan regarding his win and participation in the WrestleMania IV tournament; featured "Real American" as the closing theme music:
Brutus Beefcake pinned Greg Valentine (w/ Jimmy Hart) by lifting his shoulder out of a back suplex into a bridge at 9:00; WWF IC Champion the Honkytonk Man appeared ringside at the 4-minute mark and taunted Beefcake over the mic until he was sent backstage by referees; after the bout, Beefcake snuck up behind Valentine and cut off a bit of his hair before scaring Valentine and Hart from the ring with his cutting shears
Hulk Hogan pinned King Harley Race (w/ Bobby Heenan) at 6:37 with a clothesline and the legdrop; late in the bout, Race laid Hogan across a table outside the ring and attempted to hit a diving headbutt from the ring apron but Hogan moved out of the way and Race crashed through the table, suffering an injury that would eventually force him into retirement (Hulk Hogan: The Ultimate Anthology Wal-Mart exclusive 4th disc, Best of Saturday Night's Main Event, Legends of Wrestling: Hulk Hogan and Bob Backlund)
Ted Dibiase (w/ Virgil & Andre the Giant) defeated Randy Savage (w/ Miss Elizabeth) via count-out at 11:39 after Andre attacked Savage on the floor after referee Dave Hebner had been knocked out, with Andre throwing Savage into the ringpost and repeatedly chopping him as Elizabeth ran backstage; mid-way through the match, Virgil was ejected for interfering at ringside; after the contest, Virgil returned to the ring and double teamed Savage with Dibiase until Hulk Hogan appeared, with Elizabeth, and cleared the ring with a steel chair; moments later, Hogan helped Savage to his feet (Best of Saturday Night's Main Event)
Prime Time Wrestling - 4/18/88: The Islanders (w/ Bobby Heenan) defeated B. Brian Blair & Jim Brunzell at 3:38 when Haku pinned Blair following a side kick behind the referee's back as Blair had Tama covered with a roll up; the match continued as a Best 2 out of 3 falls contest but only the first fall was televised during the initial airing; fall #2: Blair & Brunzell won; fall #3: Haku pinned Blair; Heenan wore a beekeeper mask for the contest
The One Man Gang (w/ Slick) pinned Ken Patera at 3:00 with a clothesline and falling on Patera immediately afterwards; after the bout, Patera fought off an attack from the Gang and scared Slick from the ring
WWF @ Springfield, MA - Civic Center - April 22, 1988 (9,000)
Saturday Night's Main Event #16 - 4/30/88 on NBC - included opening comments from Jim Duggan, Bobby Heenan, Andre the Giant, & Hercules, the One Man Gang & Slick, and WWF World Champion Randy Savage & Miss Elizabeth regarding their upcoming matches; featured Vince McMahon & Jesse Ventura on commentary; included footage of Duggan recently hitting Andre and knocking him out with his 2x4; featured Gene Okerlund conducting a backstage interview with Heenan, Andre, and Hercules regarding Hercules' upcoming match with Duggan; included Okerlund conducting a backstage interview with Duggan regarding his upcoming match; featured footage from WrestleMania IV of Brutus Beefcake giving Jimmy Hart a haircut; included Okerlund conducting a backstage interview with Hart & Danny Davis regarding Davis' upcoming match with Beefcake, in which they were shown with a bag full of their own cutting devices they planned to use on Beefcake's hair; featured Okerlund conducting a backstage interview with Beefcake regarding his upcoming match; included footage from the ending of the Randy Savage vs. One Man Gang match from WrestleMania IV; featured Okerlund conducting a backstage interview with OMG & Slick regarding OMG's upcoming match with Savage; included Okerlund conducting a backstage interview with Savage & Elizabeth regarding Savage's first televised title defense; featured Okerlund conducting a backstage interview with Davey Boy Smith & the Dynamite Kid, with Matilda, regarding their upcoming match against WWF Tag Team Champions Demolition; included Ventura conducting a backstage interview with WWF Tag Team Champions Demolition & Mr. Fuji regarding their title win at WrestleMania IV and their upcoming bout against Smith & Dynamite, during which the champions claimed they would turn Matilda into a hood ornament and put her on Fuji's car; featured Okerlund conducting a backstage interview with Superstar Billy Graham & Don Muraco regarding Muraco's upcoming bout with Ted Dibiase; included Okerlund conducting a backstage interview with Dibiase, with Virgil, regarding his upcoming match with Muraco and not winning the WWF World Title at WrestleMania IV; featured Okerlund conducting a backstage interview with Savage & Elizabeth regarding the challenge of Dibiase; included Phil Collins' "Take Me Home" as the closing theme song:
Wrestling Challenge - 5/8/88: Jim Duggan defeated Hercules (w/ Bobby Heenan & Andre the Giant) via disqualification at around the 8-minute mark when Heenan ran in the ring and broke the cover after Duggan hit the running clothesline; after the bout, Duggan was double teamed by Andre and Hercules until the Ultimate Warrior appeared, threw Duggan his 2x4, and scared Andre and Hercules from the ring
Wrestling Challenge - 5/8/88: Brutus Beefcake defeated Danny Davis (w/ Jimmy Hart) via submission with the sleeper at around the 3:10 mark; after the contest, Beefcake cut some of Davis' hair while Hart, armed with cutting shears, could only watch from ringside; moments later, Beefcake spraypainted a "B" on Davis' chest in white and sprayed in his hair too; after Davis came to, Beefcake held up a mirror so he could see what he looked like, then attacked him until Davis slid to the floor
WWF World Champion Randy Savage (w/ Miss Elizabeth) pinned the One Man Gang (w/ Slick) at 6:03 with the flying elbowsmash after Slick accidentally hit the challenger with his cane behind the referee's back; prior to the bout, Savage scared Slick backstage but he returned mid-way through the contest
WWF Tag Team Champions Demolition (w/ Mr. Fuji) defeated Davey Boy Smith & the Dynamite Kid via disqualification in a non-title match at around the 5-minute mark when Smith & Dyanmite returned ringside after chasing Fuji backstage and attacked the champions with the broken pieces of Fuji's cane, which had been broken backstage
Wrestling Challenge - 5/15/88: Ted Dibiase (w/ Virgil) pinned Don Muraco (w/ Superstar Billy Graham) at 4:12 with a bodyslam, even though Muraco had his foot on the bottom rope during the cover; Virgil stood right next to where Muraco was covered; he perhaps was supposed to push the foot off the rope during the cover but forgot; Muraco repeatedly pointed to his foot on the rope during the cover, perhaps as a signal for Virgil to push it off or just to the referee to notice it
Wrestling Challenge - 5/15/88: Rick Rude (w/ Bobby Heenan) pinned Koko B. Ware at 3:44 with the Rude Awakening after Koko landed throat first onto the top rope
WWF @ Baltimore, MD - Arena - October 25, 1988
Saturday Night's Main Event #17 - 10/29/88 on NBC (8.7) - featured opening comments from Jake & Cheryl Roberts, Rick Rude & Bobby Heenan, Slick & the Big Bossman, Bret Hart & Jim Neidhart, WWF Tag Team Champions Demolition, Jimmy Hart & Mr. Fuji, and Hulk Hogan, with Miss Elizabeth, regarding their upcoming matches; included Vince McMahon & Jesse Ventura on commentary; featured a video package recapping the Roberts / Rude feud; included Gene Okerlund conducting a backstage interview with Rude & Heenan regarding Rude's upcoming match with Roberts and his wearing tights with Cheryl's face on them; featured Okerlund conducting a backstage interview with Jake & Cheryl Roberts regarding Jake's upcoming match with Rude:
Jake Roberts (w/ Cheryl Roberts) defeated Rick Rude (w/ Bobby Heenan) via disqualification at 7:22 when Heenan climbed in the ring and kicked Roberts as Roberts began ripping off Rude's tights, which featured Cheryl's face, after hitting the DDT; after the bout, Andre the Giant came to the ring and threw Roberts to the floor before going over to check on Rude with Heenan; moments later, Roberts took Damien out of his snake bag and scared Andre with it before throwing it on Andre, with Andre then falling down and clutching his chest; after Andre passed out, Jake held Damien in the air as he stood over Andre's body (Best of the WWF Vol. 18)
WWF Tag Team Champions Demolition (w/ Mr. Fuji & Jimmy Hart) defeated Bret Hart & Jim Neidhart at 5:58 when Smash pinned Neidhart by hitting him with Jimmy Hart's megaphone when Neidhart grabbed for Raymond Rougeau on the ring apron moments after Jacques & Raymond Rougeau came ringside
Hulk Hogan (w/ Miss Elizabeth) pinned King Haku (w/ Bobby Heenan) at 6:16 with the legdrop; Heenan was helped backstage during the bout after Hogan had pulled him in front of him when Haku was jumping from the apron (Hulk Hogan - Real American)
Dino Bravo (w/ Frenchy Martin) pinned Ken Patera at 3:03 with the side suplex
The Big Bossman pinned Jim Powers with the sidewalk slam at 2:34 (More Saturday Night's Main Event)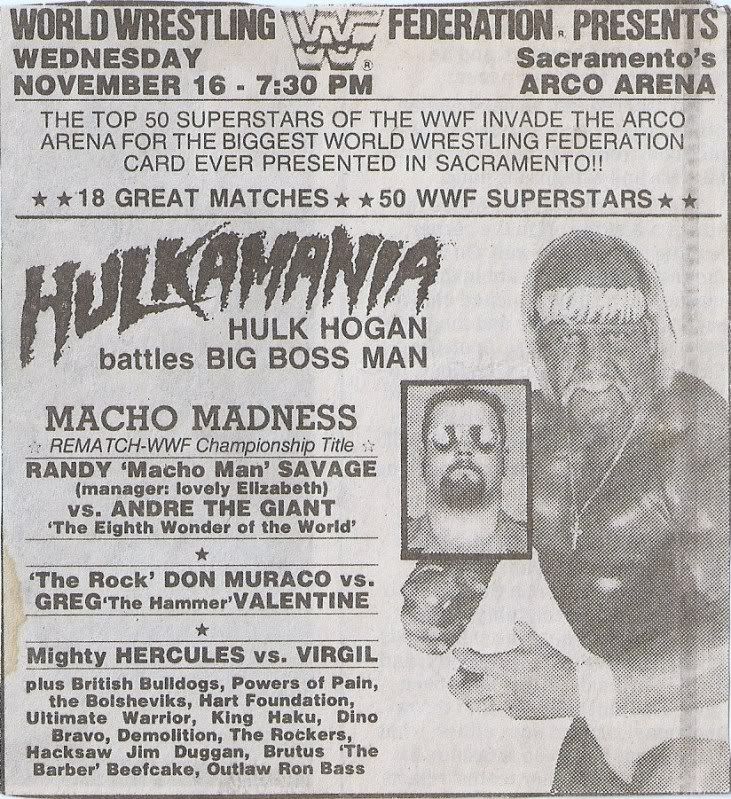 WWF @ Sacramento, CA - Arco Arena - November 16, 1988 (15,900)
Saturday Night's Main Event #18 - 11/26/88 on NBC (9.4) - included opening comments from WWF IC Champion the Ultimate Warrior, Andre the Giant & Bobby Heenan, WWF World Champion Randy Savage & Miss Elizabeth, Ted Dibiase with Virgil, and Hulk Hogan regarding the upcoming program; featured Vince McMahon & Jesse Ventura on commentary; included Gene Okerlund conducting a backstage interview with Mr. Fuji & Super Ninja #1 regarding Ninja's upcoming match with the Warrior; featured Okerlund conducting a backstage interview with the Warrior regarding his upcoming title defense; included footage of Heenan selling Hercules' contract to Dibiase the previous month; featured Ventura conducting a backstage interview with Dibiase and Virgil regarding Virgil's upcoming match with Hercules; included Okerlund conducting a backstage interview with Hercules regarding his match with Virgil; featured an ad for the WrestleMania VCR game; included footage from the previous month's Saturday Night's Main Event of Jake Roberts scaring Andre with Damien; featured Okerlund conducting a backstage interview with Andre & Heenan regarding last month's incident and facing Savage for the WWF World Title; included Okerlund conducting a backstage interview with Savage & Elizabeth regarding Savage's upcoming match with Andre; featured a promo from Hogan regarding facing Slick on the Brother Love Show; included Okerlund conducting a backstage interview with Jim Duggan regarding his upcoming flag match with Boris Zhukov, during which Duggan said he wouldn't allow any other flags to be waved in the arenas, including that of Dino Bravo's Quebec flag; featured footage of Hogan appearing the previous month on the Brother Love Show, during which he was attacked by the Big Bossman, who beat him with the nightstick and handcuffed him to the steel barrier; included Slick as a guest of the Brother Love Show, instead of the scheduled Hogan, with Love then introducing Hogan and asked him about the recent beating he took from the Bossman, with Love cutting Hogan off as he went to answer; as Hogan threatened Love, Love responded by saying it would only take one phone call to the Bossman for Hogan to get another beating; Hogan then threw Slick to the floor, slammed Love, pulled a pair of handcuffs out of his kneepad, handcuffed Love to the top rope, and clotheslined him out of the ring (Best of the WWF Vol. 18); featured Ventura conducting a backstage interview with Jimmy Hart, Jacques & Raymond Rougeau in which Hart announced the Rougeaus were now living in America, with the Rougeaus then talking in southern accents to celebrate moving to the US; included Ventura conducting a backstage interview with Andre & Heenan over Jake Roberts costing him the WWF World Title, during which Andre grabbed Ventura to claim he wasn't afraid of snakes; featured Okerlund conducting a backstage interview with Roberts regarding Andre; included Okerlund conducting a backstage interview with Hogan regarding his appearance on the Brother Love Show and feud with the Bossman; featured Steve Winwood's "Higher Love" as the closing theme song, with clips of Hogan on the Brother Love Show:
WWF IC Champion the Ultimate Warrior pinned Super Ninja #1 (Rip Oliver) (w/ Mr. Fuji) at 2:11 with the gorilla press slam and splash (Ninja's only appearance)
Hercules pinned Virgil (w/ Ted Dibiase) with a powerslam at 3:20; after the bout, Hercules threw Virgil onto Dibiase on the floor and held Dibiase off by swinging his chair inside the ring; moments later, Dibiase berated Virgil for the loss as they made their way backstage
WWF World Champion Randy Savage (w/ Miss Elizabeth) fought Andre the Giant (w/ Bobby Heenan) to a double disqualification at 8:51 when Jake Roberts came ringside and scared Heenan into the ring; at around the 5-minute mark, Roberts came ringside with Damien and put the bag underneath the ring before being told to go backstage by the referee; once Heenan eventually found the bag, Andre instructed him to take it to the back, which is what he was attempting to do until Jake returned; after the bout, Savage tossed Heenan into Andre, causing Andre to fall backwards and have his arms entangled in the ring ropes; moments later, Savage threw Heenan to the floor and Jake entered the ring with Damien; Andre was able to free himself from the ropes before Roberts had a chance to assault him with Damien (More Saturday Night's Main Event, Best of the WWF: Saturday Night's Main Event, Best of Saturday Night's Main Event)
Jim Duggan pinned Boris Zhukov at 2:27 in a flag match with the running clothesline; Duggan used "The Star Spangled Banner" as his entrance music for the match; early in the match, Jesse Ventura said he had a secret about Jimmy Hart, Jacques & Raymond Rougeau; after the bout, the American flag was lowered from the rafters, with Duggan then saluting it as the National Anthem played ("Hacksaw" Jim Duggan)
Jacques & Raymond Rougeau (w/ Jimmy Hart) defeated Paul Roma & Jim Powers at 3:05 when Raymond pinned Roma following Jacques' Bombs Away
WWF @ Tampa, FL - SunDome - December 7, 1988 (9,176)
Saturday Night's Main Event #19 - 1/7/89 on NBC - included opening comments from WWF IC Champion the Ultimate Warrior, the Honkytonk Man & Jimmy Hart, Brutus Beefcake, Akeem & Slick, and Hulk Hogan regarding their upcoming matches; featured Vince McMahon & Jesse Ventura on commentary; included Gene Okerlund conducting a backstage with Ron Bass regarding his upcoming match with Beefcake; featured a video package highlighting the feud between Beefcake and Bass; included Okerlund conducting a backstage interview with Beefcake regarding his upcoming bout; featured Okerlund conducting a backstage interview with Akeem, the Big Bossman, & Slick regarding Akeem's upcoming match with Hogan; included Okerlund conducting a backstage interview with Hogan & Miss Elizabeth, in which Hogan brought out WWF World Champion Randy Savage who he said would watch his back against Akeem & Bossman; featured Okerlund conducting a backstage interview with Honky & Hart regarding Honky's upcoming match with the Warrior; featured Okerlund conducting a backstage interview with the Warrior regarding his upcoming title defense; included Okerlund conducting a backstage interview with Slick, Bossman, & Akeem regarding the beating they gave Hogan, with Slick implying Hogan & Savage weren't as tight as they appeared to be; featured Ventura conducting a backstage interview with Bobby Heenan & the Red Rooster, during which Heenan said he would make the Rooster successful despite Rooster's limited abilities; included Okerlund conducting a backstage interview with Curt Hennig regarding his finisher, the Perfect Plex; featured Okerlund conducting a backstage interview with Hogan, Savage, & Elizabeth in which Hogan said Savage was there for them when he needed him and Savage said the pain Hogan felt in the ring was what he felt backstage:
Brutus Beefcake defeated Ron Bass in a hair vs. hair match via submission with the sleeper at 7:40 after avoiding a clothesline; after the commercial break, Beefcake cut Bass' hair and shaved it inside the ring while Bass was still knocked out; after Bass came to, he ran backstage to find Beefcake (More Saturday Night's Main Event)
Hulk Hogan (w/ Miss Elizabeth) defeated Akeem (w/ Slick & the Big Bossman) via disqualification at around the 8-minute mark when Bossman hit Hogan with his nightstick as Hogan ran the ropes, attempting the legdrop; prior to the bout, Gene Okerlund and WWF World Champion Randy Savage - watching on backstage - took note of Hogan opening the ropes for Elizabeth; mid-way through the contest, as Hogan was being double teamed by Akeem & Bossman while the referee was knocked out, Okerlund and Savage were shown watching backstage but Savage said Hogan would be okay; moments later, Elizabeth ran backstage to find Savage, with Savage repeatedly telling her he had confidence in Hogan and he would be okay; Elizabeth then returned ringside alone; after the contest, Bossman choked Hogan with his nightstick and then grabbed hold of Elizabeth, with Savage then clearing the ring with a steel chair; moments later, Savage took exception with Elizabeth tending to Hogan's injuries (More Saturday Night's Main Event)
WWF IC Champion the Ultimate Warrior pinned the Honkytonk Man (w/ Jimmy Hart) at 5:07 with a flying shoulderblock after avoiding a clothesline (The Ultimate Warrior, Best of Saturday Night's Main Event)
Tito Santana pinned the Red Rooster (w/ Bobby Heenan) with a roll up at 7:27 after Rooster became distracted by Heenan after Heenan rolled Rooster back in the ring after Santana knocked him to the floor; Heenan was fitted with a mic for the match, with everything he said at ringside being picked up at the commentary table; during the contest, Heenan spoke with George Steinbrenner who sat ringside for the show; mid-way through the bout, Heenan began arguing with the Rooster at ringside, with Rooster shoving Heenan before continuing the match; after the contest, Heenan berated Rooster in the ring and slapped him, with Rooster then beating Heenan up until Heenan slid out of the ring and ran backstage (the end of Rooster's undefeated streak) (More Saturday Night's Main Event, The Brains Behind the Brawn)
Mr. Perfect pinned Koko B. Ware at 3:10 with the Perfect Plex
WWF @ Hershey, PA - Hersheypark Arena - February 16, 1989 (9,000; sell out)
Saturday Night's Main Event #20 - 3/11/89 on NBC (10.0) - included an opening video package highlighting the breakup of the Mega Powers; featured Vince McMahon & Jesse Ventura on commentary; included Gene Okerlund conducting a backstage interview with Rick Rude & Bobby Heenan regarding Rude's upcoming match with Brutus Beefcake; featured Okerlund conducting a backstage interview with Beefcake regarding his upcoming match; included a pre-taped promo by Hulk Hogan regarding his upcoming match with Bad News Brown; featured Ventura conducting a backstage interview with Bad News, with Bad News continuing to alledge Miss Elizabeth was doing special favors for WWF President Jack Tunney in return for special treatment and said he would go through Hogan to get a WWF World Title shot; included Okerlund conducting a backstage interview with Hogan & Elizabeth regarding Bad News' accusations, WWF World Champion Randy Savage putting Elizabeth between them, and facing Savage at WrestleMania V; featured Okerlund conducting a backstage interview with Ted Dibiase, with Virgil, regarding his new Million $ Belt and his upcoming match with the Blue Blazer; included Okerlund conducting a backstage interview with the Blazer regarding the upcoming contest; featured backstage footage of Savage waiting to hear from Elizabeth as to whose corner she would be in at WrestleMania; included Okerlund conducting a podium interview with Elizabeth over that decision; after Elizabeth said she would not be in Hogan's corner, Savage appeared gloating that she would be in his corner; when Okerlund finally asked her, she said she wouldn't be in Savage's corner either, with Savage then grabbing her until Hogan appeared and said he would take back the belt at WrestleMania; featured Okerlund conducting a backstage interview with Heenan, Arn Anderson & Tully Blanchard regarding their upcoming match against Shawn Michaels & Marty Jannetty; included Okerlund conducting a backstage interview with Michaels & Jannetty regarding the upcoming contest; featured a video package highlighting the feud between the Red Rooster and Heenan; included Ventura conducting a backstage interview with Heenan & the Brooklyn Brawler regarding Brawler's upcoming match with the Rooster and Heenan facing Rooster at WrestleMania V; featured Okerlund conducting a backstage interview with the Rooster regarding his upcoming match; included backstage footage of Savage throwing furniture around backstage; featured a closing video package highlighting the history of the Mega Powers:
Brutus Beefcake defeated Rick Rude (w/ Bobby Heenan) via disqualification at 5:45 when, after Jake Roberts appeared ringside to counter the interference of Andre the Giant, Rude and Andre began double teaming Roberts in the ring; Andre appeared ringside late in the match and eventually began sitting on and choking Beefcake on the floor behind the back of referee Dave Hebner, with Roberts then coming out with Damien; in the enusing brawl, Big John Studd eventually appeared after Andre was the last man left alone in the ring; as the two men faced off, Roberts slid Damien into the ring, with Andre, Rude, and Heenan then leaving ringside
Hulk Hogan (w/ Miss Elizabeth) pinned Bad News Brown at 9:44 with a boot to the face and the legdrop; late in the bout, Bad News grabbed the mic as he was in control of the contest, cut a promo on Hogan, and said he would finish Hogan off with the Ghetto Blaster, however the champion avoided the move; after the bout, Hogan posed in the ring with Elizabeth (Hulkamania 4)
Ted Dibiase (w/ Virgil) pinned the Blue Blazer with a powerslam at 3:57 as the Blazer attempted a crossbody (Dibiase's first in-ring appearance with the Million $ Belt) (More Saturday Night's Main Event)
Shawn Michaels & Marty Jannetty fought Arn Anderson & Tully Blanchard to a double count-out at around the 9-minute mark after both teams began brawling on the floor; Bobby Heenan was initially in the corner of Anderson & Blanchard but was ejected from ringside mid-way through after twice interfering in the match; after the bout, the fight continued in the ring with Michaels & Jannetty eventually clearing the ring of their opponents (More Saturday Night's Main Event)
The Red Rooster pinned the Brooklyn Brawler (w/ Bobby Heenan) at 1:05 with an inside cradle as the Brawler lowered his head for a backdrop; prior to the contest, it was announced Miss Elizabeth would be in a neutral corner at WrestleMania V for the match between Hulk Hogan and WWF World Champion Randy Savage; Heenan was fitted with a mic for the match, with everything he said being heard by the commentary team; after the bout, Brawler and Heenan attacked the Rooster before Rooster eventually cleared the ring of both of them
WWF @ Des Moines, IA - Veterans Auditorium - April 25, 1989
Saturday Night's Main Event #21 - 5/27/89 on NBC; featured Vince McMahon & Jesse Ventura on commentary; included two seperate clips from "No Holds Barred", one featuring Hulk Hogan and the other featuring Zeus:
King Jim Duggan defeated WWF IC Champion Rick Rude (w/ Bobby Heenan) via count-out at around 7:15 when the running clothesline from the challenger knocked Rude to the floor and the champion could not break the count back inside; Haku briefly appeared ringside at around the 3:40 mark but was sent backstage by referees; Duggan's exit theme was "Stars and Stripes Forever" as it was Memorial Day Weekend (Duggan's first match as King, even though he did not actually win the crown until 4/26)
Randy Savage (w/ Sensational Sherri) pinned Jim Neidhart with the flying elbowsmash at 5:54 after hitting a double axe handle from the top to the floor
WWF World Champion Hulk Hogan defeated the Big Bossman (w/ Slick) in a steel cage match at 10:01 by stealing Bossman's handcuffs from an interfering Slick and handcuffing Bossman to the top rope, with the champion then escaping over the top just seconds before Slick was able to uncuff Bossman so he could escape out the door; prior to the bout, Slick introduced Zeus who then came ringside and awaited Hogan's entrance; moments later, as Hogan approached the cage, he was beaten down by Zeus before Zeus then left ringside; after the bout, Hogan rammed Bossman into the cage on the floor and did the same to Slick inside the ring before Bossman pulled his manager to safety; Hogan then posed in the ring while wearing Slick's hat (WWF Wrestling's Greatest Steel Cage Matches Ever!, Best of Saturday Night's Main Event)
Arn Anderson & Tully Blanchard (w/ Bobby Heenan) defeated WWF Tag Team Champions Demolition via disqualification at around 9:15 when a frustrated Ax entered the ring, a brawl ensued, and Ax shoved referee Joey Marella to the mat; after the match, both teams battled their way backstage (Demolition)
Jimmy Snuka pinned Boris Zhukov (w/ Slick) at 1:11 with a backbreaker and the top rope splash (Snuka's TV in-ring return after a 4-year absence)
WWF @ Worcester, MA - Centrum - July 18, 1989
Saturday Night's Main Event #22 - 7/29/89 on NBC - included opening comments from Randy Savage & Sensational Sherri, Brutus Beefcake, Bobby Heenan, Arn Anderson & Tully Blanchard, WWF Tag Team Champions Demolition, the Honkytonk Man & Jimmy Hart, and WWF World Champion Hulk Hogan regarding their upcoming matches; featured Vince McMahon & Jesse Ventura on commentary; included a video package of the Honkytonk Man's "greatest hits" in which he was shown hitting Jake Roberts, Bret Hart, Jimmy Snuka, and WWF IC Champion the Ultimate Warrior with his guitar; featured Gene Okerlund conducting a backstage interview with Honky & Jimmy Hart regarding his upcoming title match with Hogan; included Okerlund conducting a backstage interview with Hogan regarding his upcoming match at Summer Slam and facing the Honkytonk Man later in the show; featured footage of the Ron Garvin vs. Greg Valentine career match and Garvin's new role as referee, with comments from WWF President Jack Tunney shown in which he said if Garvin became physically involved in any more matches then he would face a long suspension; included footage of Beefcake appearing on the Brother Love Show, with Savage attacking Beefcake from behind and Sherri cutting Beefcake's hair; featured Ventura conducting a backstage interview with Savage & Sherri regarding Savage's upcoming match with Beefcake, with Savage saying he had a surprise for Beefcake; included Okerlund conducting a backstage interview with Beefcake regarding the upcoming match; featured Ventura conducting a backstage interview with Savage, Sherri, & Zeus regarding the fight with Hogan & Beefcake earlier in the show; included footage of the Demolition vs. Anderson & Blanchard match from the previous Saturday Night's Main Event; featured Okerlund conducting a backstage interview with Demolition regarding their upcoming title defense; included Okerlund conducting a backstage interview with Hogan & Beefcake regarding their earlier altercation with Zeus, their match at Summer Slam against Savage & Zeus, and protecting Miss Elizabeth from Savage, Zeus, & Sherri:
WWF World Champion Hulk Hogan pinned the Honkytonk Man (w/ Jimmy Hart) at 6:14 with the legdrop after hitting both Honky and an interfering Hart with the guitar; late in the bout, Honky hit the Shake, Rattle, & Roll but Hogan kicked out at 2; after the commercial break, Hogan continued to pose in the ring, with Ron Garvin then coing out to referee the next contest, shook Hogan's hand, and raised it in victory (Hulkamania 4)
Jimmy Snuka pinned Greg Valentine (w/ Jimmy Hart) at 3:14 with a flying crossbody after referee Ron Garvin punched Valentine in the face; after the bout, Garvin knocked Valentine to the floor (Wrestling Super Heroes)
Brutus Beefcake defeated Randy Savage (w/ Sensational Sherri) via disqualification at around the 11:30 mark when Zeus attacked Beefcake from behind as he had Savage caught in the sleeper; late in the bout, Sherri ran backstage and returned with Zeus; after the match, Zeus locked Beefcake in a bearhug, with WWF World Champion Hulk Hogan attempting to make the save but being attacked as well; eventually, Hogan hit Zeus in the back with a steel chair but Zeus appeared not to be effected by it; Hogan and Beefcake eventually cleared the ring, armed with steel chairs
Arn Anderson & Tully Blanchard (w/ Bobby Heenan) defeated WWF Tag Team Champions Demolition in a Best 2 out of 3 falls match to win the titles; fall #1: Smash pinned Anderson after dropping him throat first on the top rope at 5:00; fall #2: the champions were disqualified for continuous double teaming at 9:29 after ramming Heenan into the ringpost and hitting the Decapitation on Blanchard; late in the fall, Andre the Giant appeared ringside; fall #3: Anderson pinned Smash at 12:33 after Blanchard hit Smash in the back of the head with a chair thrown into the ring by Andre; moments later, Jesse Ventura conducted a backstage interview with WWF IC Champion Rick Rude and Haku regarding the title win, with Heenan, Anderson, Blanchard, and Andre then appearing and celebrating; moments later, Heenan said he had two belts and wanted to add the WWF World Title to the list
WWF @ Cincinnati, OH - Riverfront Coliseum - September 21, 1989 (14,000; 12,000 paid)
Saturday Night's Main Event #23 - 10/14/89 on NBC (9.5) - included opening comments from Roddy Piper, Randy Savage & Sensational Sherri, the Bushwhackers, Ted Dibiase & Zeus, and WWF World Champion Hulk Hogan regarding their upcoming matches; featured Vince McMahon & Jesse Ventura on commentary; included footage from Savage's coronation ceremony; featured Ventura conducting a backstage interview with Savage & Sherri regarding his winning the crown and upcoming match with Jimmy Snuka; included Okerlund conducting a backstage interview with Snuka regarding his upcoming match; featured a video package highlighting Zeus' altercations with Hogan at the previous two Saturday Night's Main Events and at Summer Slam; included Ventura conducting a backstage interview with Dibiase, with Zeus, regarding his upcoming match with Hogan; featured Okerlund conducting a backstage interview with Hogan regarding his feud with Zeus and upcoming match with Dibiase; included a video package highlighting the feud between Piper and Rick Rude; featured Ventura conducting a backstage interview with Bobby Heenan & Haku regarding Haku's upcoming match with Piper; included Okerlund conducting a backstage interview with Piper regarding his upcoming match; featured Okerlund conducting a backstage interview with Dibiase, with Zeus, in which Dibiase cut a promo on Jake Roberts' interference in his match and blamed him for not being WWF World Champion; moments later, Zeus cut a promo on facing Hogan at the Survivor Series; included Okerlund conducting a backstage interview with Rick Martel & Slick regarding Martel's upcoming match with Tito Santana; featured Okerlund conducting a backstage interview with Piper regarding his victory and going through the members of the Heenan Family; included Okerlund conducting a backstage interview with the Bushwhackers regarding their upcoming match against Jacques & Raymond Rougeau; featured Okerlund conducting a backstage interview with Hogan regarding his win over Dibiase, injury at the hands of Zeus, and facing Dibiase's team at the Survivor Series:
Randy Savage (w/ Sensational Sherri) pinned Jimmy Snuka at 5:37 with a roll up and grabbing the tights for leverage after hitting Snuka in the kidney with Sherri's loaded purse; after the bout, Savage attacked Snuka and attempted the flying elbowsmash but Snuka moved out of the way; moments later, Snuka set Savage up for the splash off the top but Sherri covered Savage, with Snuka then leaping off, knocking Savage to the floor and scaring Sherri from the ring
WWF World Champion Hulk Hogan pinned Ted Dibiase (w/ Zeus) with a small package at around the 8-minute mark after Dibiase accidentally hit Zeus with a clothesline when Hogan moved out of the way; early in the match, Jake Roberts appeared ringside to distract Dibiase but left after Virgil appeared and stole Roberts' snake bag, with Roberts chasing Virgil backstage; after the contest, Zeus wrenched Hogan's neck, with Dibiase then throwing the referee to the floor and applying the Million $ Dream until Roberts returned and slid Damien into the ring, clearing Dibiase and Zeus to the floor (The Immortal Hulk Hogan)
Roddy Piper pinned Haku (w/ Bobby Heenan) with a belly to belly suplex at 3:02 (Legends of Wrestling: Roddy Piper and Terry Funk)
Tito Santana (w/ the Red Rooster, Brutus Beefcake, & Dusty Rhodes) fought Rick Martel (w/ Slick, the Big Bossman, Akeem, Jimmy Hart, & the Honkytonk Man) to a double disqualification at around the 9-minute mark when all the wrestlers at ringside began brawling in the ring; prior to the bout, Gene Okerlund conducted a backstage interview with Santana - after Martel made his appearance with his Survivor Series teammates - in which Santana said he had a plan of his own; moments later, after Santana made his entrance, Santana's teammates appeared one by one to be in his corner; after the match, Santana, Rhodes, Beefcake, & the Rooster cleared their opponents from the ring
The Bushwhackers defeated Jacques & Raymond Rougeau at 3:15 when Butch pinned Jacques following a double gutbuster; Jimmy Hart was in the Rougeaus' corner for the bout until he ran backstage mid-way through after the Bushwhackers took off his pants, revealing Hart was wearing boxers with the Quebec flag on them
WWF @ Topeka, KS - Expocentre - October 31, 1989
Saturday Night's Main Event #24 - 11/25/89 on NBC (8.7) - included opening comments from WWF IC Champion the Ultimate Warrior, Andre the Giant & Bobby Heenan, Dusty Rhodes, the Big Bossman & Slick, the Genius, and WWF World Champion Hulk Hogan regarding the upcoming matches; featured Vince McMahon & Jesse Ventura on commentary; included footage of Andre attacking Warrior from behind in August, setting up their feud; featured Ventura conducting a backstage interview with Andre & Heenan regarding Andre's upcoming match with Warrior; included Gene Okerlund conducting a backstage interivew with Warrior regarding his upcoming title defense; featured Ventura conducting a backstage interview with the Genius regarding his upcoming WWF World Title match with Hogan; included Okerlund conducting a backstage interview with Hogan regarding his upcoming title defense; included a video package highlighting the start of the feud between Rhodes and the Bossman in July; featured Okerlund conducting a backstage interview with Bossman & Slick regarding Bossman's upcoming match with Rhodes; included Okerlund conducting a backstage interview with Rhodes regarding his upcoming bout; featured Okerlund conducting a backstage interview with the Red Rooster regarding his upcoming match with Mr. Perfect; included Ventura conducting a backstage interview with Perfect regarding his interference during the WWF World Title match, with Perfect saying he would make things clear after his upcoming match with the Rooster; featured Okerlund conducting a backstage interview with Shawn Michaels & Marty Jannetty regarding their upcoming Best 2 out of 3 falls match against Arn Anderson & Tully Blanchard; included Okerlund conducting a backstage interview with Heenan, Anderson & Blanchard regarding their upcoming match, during which Anderson & Blanchard argued with Heenan over him thinking less of them simply because they didn't have the tag team belts anymore, with Heenan saying they needed to listen to him more; featured Okerlund conducting a backstage interview with Perfect & the Genius, with Perfect destroying the title belt with a hammer and saying he deserved a title shot; included Okerlund conducting a backstage interview with Hogan, holding the destroyed title belt, about his loss to the Genius and Perfect wanting a title shot, with Hogan eventually dropping the belt to the floor and walking off:
WWF IC Champion the Ultimate Warrior defeated Andre the Giant (w/ Bobby Heenan) via disqualification at 7:46 when Warrior attacked Heenan and threw him onto Andre, knocking both men to the floor, after Heenan attempted to hit Warrior with the title belt behind the referee's back (Ultimate Warrior: The Ultimate Collection)
The Genius defeated WWF World Champion Hulk Hogan via count-out at 7:34 after Mr. Perfect, who appeared ringside mid-way through the bout, hit Hogan from behind with the belt as Hogan attempted to climb back inside the ring; earlier in the match, Perfect stuck his gum on the title belt and said Hogan wasn't a perfect champion and it wasn't a perfect belt; after the bout, Hogan scared Perfect and the Genius out of the ring, with Perfect leaving in possession of the title belt (Hulkamania Forever)
Dusty Rhodes pinned the Big Bossman (w/ Slick) at 4:47 with a roll up after Bossman became distracted by Slick arguing with a fan at ringside after Bossman told Slick to grab his nightstick for him; after the bout, Bossman yelled at both Slick and the fan before leaving ringside; moments later, Rhodes waved for the woman to come into the ring with him, with the two hugging and dancing (Sapphire's debut) (Best of Saturday Night's Main Event)
Mr. Perfect (w/ the Genius) pinned the Red Rooster with a forearm and the Perfect Plex at 4:13
Shawn Michaels & Marty Jannetty defeated Arn Anderson & Tully Blanchard in a Best 2 out of 3 falls match at 7:32, 2-1; fall #1: Jannetty pinned Blanchard with a sunset flip into the ring at 1:50 after Michaels prevented Blanchard from holding onto Anderson from the floor; Bobby Heenan was initially in the corner of Anderson & Blanchard but berated his team inside the ring after the first fall and walked out of the match moments into the second fall; fall #2: Blanchard pinned Michaels at 2:09 after Anderson dropped Michaels throat-first across the top rope behind the referee's back; after the fall, Jesse Ventura conducted a backstage interivew with Heenan, in which Heenan said Anderson & Blanchard were the worst team he'd ever worked with and fired them; fall #3: Michaels pinned Anderson at 3:33 with a crossbody off the top as Anderson attempted a piledriver on Jannetty (Anderson's last TV appearance for more than 12 years) (Blanchard's last TV appearance for more than 18 years) (Best of Saturday Night's Main Event)
WWF @ Chattanooga, TN - UTC Arena - January 3, 1990
Saturday Night's Main Event #25 - 1/27/90 on NBC (11.1) - featured Vince McMahon & Jesse Ventura on commentary; included Gene Okerlund conducting a backstage interview with Jim Duggan regarding his upcoming match with Randy Savage, with the king's crown at stake; during the interview, footage was shown of Savage winning the crown from Duggan on 8/30/89; featured Okerlund conducting a backstage interview with Savage & Sensational Sherri regarding his upcoming defense of the crown; included Ventura conducting a backstage interview with Mr. Perfect & the Genius regarding their upcoming match against WWF World Champion Hulk Hogan & WWF IC Champion the Ultimate Warrior, during which Hogan and Warrior's fight during the Royal Rumble and the Genius' win over Hogan at the previous Saturday Night's Main Event; featured footage of Hogan and Warrior's confrontation at the Rumble; included Okerlund conducting a backstage interview with Hogan & Warrior regarding their confrontation at the Rumble and upcoming match; featured footage of Jake Roberts stealing the Million $ belt the previous week on WWF Superstars; included Okerlund conducting a backstage interview with Roberts regarding the belt and his upcoming match with Greg Valentine; featured Ventura conducting a backstage interview with Valentine & Jimmy Hart; included Ventura conducting a backstage interview with Rick Rude & Bobby Heenan regarding Rude's upcoming match with Dusty Rhodes, with Sapphire in his corner; featured Okerlund conducting a backstage interview with Rhodes & Sapphire regarding Rhodes' upcoming match with Rude and Rude's comments that he could have Sapphire any time he wanted her; included Okerlund conducting a backstage interview with Hart, Dino Bravo, & the Canadian Earthquake regarding Bravo's upcoming match with Ron Garvin; featured Ventura conducting a backstage interview with Savage regarding his title match with Hogan Feb. 23 on NBC with Mike Tyson as the guest referee, during which Savage warned Tyson to call the match right down the middle; included Okerlund conducting a backstage interview with Hogan regarding his title defense against Savage:
Randy Savage (w/ Sensational Sherri) pinned Jim Duggan at 9:14 when Sherri grabbed Duggan's leg during a suplex into the ring, with Savage falling on top, and held the foot during the cover; after the bout, Duggan brought Savage back into the ring just to send him back out with a 2x4 blow to the back (Super Tape 2)
Prime Time Wrestling - 1/29/90: WWF World Champion Hulk Hogan & WWF IC Champion the Ultimate Warrior defeated Mr. Perfect & the Genius at the 8-minute mark when Hogan pinned the Genius with the legdrop after the Genius sustained Warrior's gorilla press slam; late in the match, Perfect had Hogan pinned with the Perfect Plex but let go to allow the Genius to hit the moonsault, which Hogan blocked by lifting his knees; after the bout, Perfect & the Genius attacked their opponents from behind, with Warrior accidentally dropping Hogan with a clothesline in the ensuing brawl; moments later, Hogan and Warrior had a face-to-face confrontation and shoving match as a result of the miscommunication (Best of the WWF: Saturday Night's Main Event, Best of Saturday Night's Main Event)
Jake Roberts defeated Greg Valentine (w/ Jimmy Hart) via disqualification at 5:16 when Ted Dibiase and Virgil attacked Roberts after Roberts knocked Hart off the apron and dropped Valentine with the DDT; prior to the bout, Roberts opened his snake bag to reveal Damien wrapped around the Million $ belt; after the contest, Roberts eventually fought off Dibiase and Virgil and scared them from the ring with Damien
Dusty Rhodes fought Rick Rude to a double count-out at around the 9-minute mark when both men began brawling in the aisle after Rude became distracted by Sapphire doing his hip swivel in the front row; Rhodes was escorted to the ring before the match by Sapphire and Rude by Bobby Heenan but the managers were ejected mid-way through the match for being too much of a distraction; Sapphire returned a minute later in the crowd after buying a ticket
Prime Time Wrestling - 1/29/90: Dino Bravo (w/ Jimmy Hart & the Canadian Earthquake) pinned Ron Garvin at 3:19 when the momentum of a crossbody off the top by Garvin put Bravo on top for the win; after the bout, Earthquake attacked Garvin in the ring and twice hit the sit-down splash; moments later, medical personnel arrived ringside and helped Garvin backstage on a stretcher
WWF @ Austin, TX - Frank Erwin Center - April 23, 1990 (8,500)
Saturday Night's Main Event #26 "The Tussle in Texas" - 4/28/90 on NBC - featured opening comments from WWF World Champion the Ultimate Warrior, Bobby Heenan & Haku, Mr. Perfect & the Genius, and Hulk Hogan regarding the upcoming matches; featured Vince McMahon & Jesse Ventura on commentary, with each on horseback and in cowboy hats in the aisle to open the broadcast; included Sean Mooney conducting a backstage interview with Perfect & the Genius regarding Perfect's upcoming match with Hogan; featured Gene Okerlund conducting a backstage interview with Hogan regarding his upcoming match; included a vignette of Rick Martel on horseback promoting his Arrogance spray; featured Ventura conducting a backstage interview with Earthquake & Jimmy Hart regarding his recent attack on Hogan and upcoming match with Hillbilly Jim; included Okerlund conducting a backstage interview with Jim regarding his upcoming match with Earthquake; featured a backstage promo by Martel regarding his Arrogance spray, during which two women appeared and walked off with Martel; included Ventura conducting a backstage interview with Bret Hart & Jim Neidhart regarding their challenge to WWF Tag Team Champions Demolition and upcoming match with Shawn Michaels & Marty Jannetty; featured Okerlund conducting a backstage interview with Michaels & Jannetty regarding the upcoming match; included Mooney conducting a backstage interview with Earthquake & Hart regarding the win over Jim and brewing feud with Hogan; featured Okerlund conducting a backstage interview with Hogan regarding Earthquake; included a video package recapping Warrior's win over Hogan at WrestleMania VI; featured Ventura conducting a backstage interview with Heenan & Haku regarding Haku's upcoming match with Warrior; included Okerlund conducting a backstage interview with Warrior regarding his upcoming title defense; featured a vignette of Martel promoting his Arrogance spray while on the tennis court; included footage of Ted Dibiase attacking the Big Bossman at WrestleMania VI; featured Mooney conducting a backstage interview with Slick & Akeem regarding Akeem's upcoming match with the Bossman; included Okerlund conducting a backstage interview with the Bossman regarding Dibiase and his upcoming match with Akeem; featured a vignette of Martel promoting his Arrogance spray before driving off in a convertible with a woman; included Mooney conducting a backstage interview with Heenan in which Heenan said he saw weaknesses in Warrior's performance, that Rick Rude was in heavy training for the WWF World Title, and that Rude would take Warrior's belt; featured Okerlund conducting a backstage interview with Warrior regarding his upcoming title defense against Rude:
Hulk Hogan pinned Mr. Perfect (w/ the Genius) at 8:03 with a boot to the face and the legdrop after kicking out of the Perfect Plex; after the match, the Genius attempted to attack Hogan from behind, with Hogan bodyslamming him to the floor (Perfect's last appearance with the Genius) (The Immortal Hulk Hogan, Hulk Still Rules, Best of Saturday Night's Main Event)
Earthquake (w/ Jimmy Hart) pinned Hillbilly Jim at 1:58 after a splash in the corner - as Jim grabbed at Hart who attempted to steal his lucky horseshoe - followed by an elbow drop and the sit-down splash; after the contest, Earthquake hit the sit-down splash twice more and then three elbow drops; moments later, medics came ringside and took Jim backstage on a stretcher
Bret Hart & Jim Neidhart fought Shawn Michaels & Marty Jannetty to a double disqualification at around 9:30 when WWF Tag Team Champions Demolition, who came ringside mid-way through the contest, interfered and all six men began brawling until they were pulled apart by officials (Best of the WWF: Saturday Night's Main Event, The Bret Hart Story: The Best There Is, Was, and Ever Will Be, Best of Saturday Night's Main Event)
WWF World Champion the Ultimate Warrior pinned Haku (w/ Bobby Heenan) with the flying shoulderblock and splash at 4:49
The Big Bossman defeated Akeem (w/ Slick) via disqualification at 3:18 when Ted Dibiase & Virgil attacked Bossman after Bossman dropped Akeem with the sidewalk slam; late in the match, Bossman kicked out of Akeem's splash; after the contest, Dibiase handcuffed Bossman to the top rope with he and Virgil double teaming Bossman; moments later, Dibiase attempted to assault Bossman with his own nightstick but Bossman freed himself from the cuffs and chased Dibiase & Virgil backstage with the nightstick
WWF @ Omaha, NE - Civic Auditorium - July 16, 1990 (10,303; sell out)
Saturday Night's Main Event #27 "Wild Kingdom" - 7/28/90 on NBC (7.2) - featured Vince McMahon & Jesse Ventura on commentary; included the announcement that Hulk Hogan would face Earthquake and that WWF World Champion the Ultimate Warrior would defend against Rick Rude in a steel cage match at Summer Slam; featured McMahon conducting an in-ring interview with Hulk Hogan, who thanked the fans for their letters and cards of support while he was out of action following Earthquake's attack and promised to reply to each and every one; Hogan then discussed his match with Earthquake at Summer Slam; moments later, Earthquake, Dino Bravo, and Jimmy Hart appeared ringside and cornered Hogan until Tugboat made the save:
Prime Time Wrestling - 8/13/90: WWF World Champion the Ultimate Warrior defeated Rick Rude (w/ Bobby Heenan) via disqualification at 9:43 when Heenan broke the champion's cover after Warrior hit the flying shoulderblock / splash combo; after the bout, Warrior cornered Heenan in the ring, repeatedly punched him, and eventually threw him to the floor
Prime Time Wrestling - 8/6/90: WWF Tag Team Champions Demolition Smash & Crush (w/ Ax) defeated Shawn Michaels & Marty Jannetty at 9:31 when Ax interfered behind referee Joey Marella's back, hit a clothesline on Michaels as Michaels had Smash rolled up, and scored the pin; after the bout, both the Hart Foundation and the Legion of Doom came to the ring to dispute the decision
Prime Time Wrestling - 8/6/90: WWF IC Champion Mr. Perfect (w/ Bobby Heenan) pinned Tito Santana at 10:11 by reversing an inside cradle (Best of the WWF: Saturday Night's Main Event, Best of Saturday Night's Main Event)
Prime Time Wrestling - 8/6/90: Kerry Von Erich pinned Buddy Rose at 3:09 with the Tornado Punch (Von Erich's TV debut)
WWF @ Toledo, OH - Sports Arena - September 18, 1990
Saturday Night's Main Event #28 - 10/13/90 on NBC - featured Vince McMahon & Roddy Piper on commentary; during the show several clips were shown of Gene Okerlund, Lord Alfred Hayes, the Genius, the Orient Express, Mr. Fuji, Slick, Akeem, Jim Duggan, WWF Tag Team Champions the Hart Foundation, & the Bushwhackers enjoying the "Oktoberfest" activities; footage was shown of the Bushwhackers at a cheese factory, a sausage stuffing contest featuring Bret Hart, Jim Neidhart, & Jim Duggan against the Orient Express & Mr. Fuji in which the Genius was watching the contest but no winner could be declared; there was also a dance-off between Jim Neidhart and Slick, and finally a food fight involving all the WWF stars that were there, with Hayes eventually appearing after being distracted for the duration of the show because he didn't have his earpiece in so he had missed everything that had been going on; Okerlund then threw a cake in Alfred's face:
WWF World Champion the Ultimate Warrior & the Legion of Doom defeated Demolition Ax, Smash, & Crush when Warrior pinned Smash with the flying shoulderblock / splash combo as the other particpants fought on the floor
Prime time Wrestling - 10/22/90: Randy Savage (w/ Sensational Sherri) defeated Dusty Rhodes via count-out at around 9:30 when Savage came off the top to the floor with a double axe handle after Dusty became distracted by Ted Dibiase and Virgil at ringside attacking his son, Dustin, and busting him open; during the bout, Dibiase and Virgil appeared in the crowd and paid off the entire front row; moments later, Dibiase tried to pay Dustin off but he ripped up the money and threw it in Virgil's face; Dibiase and Virgil then took a seat beside Dustin; after the bout, Dusty covered his bloodied son and was stomped by Dibiase and Virgil
Prime Time Wrestling - 10/29/90: Hulk Hogan & Tugboat defeated Greg Valentine & the Honkytonk Man (w/ Jimmy Hart) via disqualification at around the 7:20 mark when Honky hit Tugboat with a guitar, knocking Tugboat to the floor; late in the bout, Hart went backstage and returned with Earthquake and Dino Bravo, who were held back by officials and quickly sent backstage; after the contest, Hogan attempted to make the save for Tugboat but was ganged up on by Honky, Valentine, Earthquake, and Bravo, with Earthquake hitting a splash and then a second splash, with added momentum from the other men in the ring; moments later, Hart's men held Hogan down by a limb as Earthquake attempted the sit-down splash but Tugboat hit Quake in the back with one of the guitars, with Tugboat then clearing the ring and tending to Hogan (Greatest Hits)
WWF Superstars - 10/20/90: Sgt. Slaughter (w/ Gen. Adnan) defeated Koko B. Ware via submission with a knuckle hold at 5:18; after the bout, Nikolai Volkoff appeared on the interview platform and waved the American flag as Slaughter waved the Iraqi flag in the ring
WWF IC Champion Kerry Von Erich pinned Haku with the Tornado Punch at 3:10
WWF @ Omaha, NE - Civic Auditorium - April 15, 1991 (9,400)
Saturday Night's Main Event #29 - 4/27/91 on NBC (7.7) - the episode was initially filmed for "The Main Event" - "The Main Event" banners and mics were used during the taping; included Vince McMahon & Randy Savage on commentary; featured Savage conducting a backstage interview with Sgt. Slaughter, Gen. Adnan, & Col. Mustafa regarding Slaughter's match later in the show against the Ultimate Warrior - during which footage was shown of Slaughter shooting a fireball into the eyes of WWF World Champion Hulk Hogan after WrestleMania VII; Slaughter then said he had spoken with Paul Bearer and knew what Warrior was scared of; included Gene Okerlund conducting a backstage interview with the Warrior regarding his recent attack on the Funeral Parlour at the hands of the Undertaker and his upcoming match with Slaughter; featured Okerlund conducting a backstage interview with WWF Tag Team Champions the Nasty Boys, with Jimmy Hart, regarding their upcoming title defense against the Bushwhackers; included Piper conducting a backstage interview with the Bushwhackers regarding their upcoming match; featured Okerlund conducting a backstage interview with Taker & Bearer regarding their feud with the Warrior; included Okerlund conducting a backstage interview with Earthquake, with Hart, regarding Quake recently killing Jake Roberts' snake Damien and Quake facing Roberts in the upcoming battle royal; featured Savage conducting a backstage interview with Roberts regarding the loss of Damien, during which Roberts said Lucifer would gain revenge on Quake; included Okerlund conducting a backstage interview with WWF World Champion Hulk Hogan regarding his feud with Slaughter and his participation in the upcoming battle royal; featured Okerlund conducting a backstage interview with Ted Dibiase, with Sensational Sherri, regarding his upcoming match with Bret Hart during which Dibiase also made fun of Piper; included Okerlund conducting a backstage interview with Slaughter, Adnan, & Mustafa regarding Hogan; featured Piper conducting a backstage interview with Hogan regarding his feud with Slaughter:
Prime Time Wrestling - 4/30/91: The Ultimate Warrior defeated Sgt. Slaughter (w/ Gen. Adnan & Col. Mustafa) via disqualification at around the 8-minute mark when Adnan & Mustafa attacked Warrior from behind after he became distracted by the Undertaker at ringside; Paul Bearer appeared at the 5-minute mark, bringing a casket to ringside with Warrior's logos across it; late in the bout, the casket opened to reveal Taker inside; after the bout, WWF World Champion Hulk Hogan appeared and cleared Slaughter, Adnan, & Mustafa from ringside; moments later, Warrior fought off an attack from Taker, with officials holding him back after Warrior sent Taker to the floor (The Self Destruction of the Ultimate Warrior FYE version)
WWF Tag Team Champions the Nasty Boys (w/ Jimmy Hart) defeated the Bushwhackers at 6:48 when Brian Knobbs pinned Luke with a double leg pickup into a cover, as Jerry Saggs pushed back on Knobbs from the apron for added leverage
Prime Time Wrestling - 5/7/91: WWF IC Champion Mr. Perfect (w/ Bobby Heenan) won a 20-man battle royal at 12:30 by last eliminating Greg Valentine; order of elimination: Paul Roma by Marty Jannetty via a headscissors (1:23); Jannetty (1:27); Smith by the Warlord (4:27); Tanaka by Jimmy Snuka (4:44); Snuka by Haku via a kick as Snuka was on the ring apron (4:47); Roberts by Earthquake via a blow from behind as Roberts attempted to eliminate Hercules (5:13); after the elimination, Roberts scared Earthquake and the other wrestlers by taking Lucifer out of his bag before leaving ringside; Warlord by Hogan (6:42); Von Erich by the Barbarian via an overhead throw as Von Erich had a sleeper applied (6:55); Duggan by Earthquake (7:08); Earthquake by Hogan (7:18); Hogan & Kato by Tugboat as Hogan attempted to eliminate Kato (7:26; 7:29); Tugboat by Michaels (7:33); Hercules by Bossman (7:37); Bossman by the Barbarian via a backdrop after Perfect dropkicked Bossman from behind (8:28); Michaels by Perfect via a back elbow after Michaels avoided a clothesline on the ring apron (9:43); Barbarian by Valentine after Perfect accidentally dropkicked Barbarian when Valentine moved out of the way (10:57); Valentine by Perfect when both men went over the top as Valentine attempted to eliminate Perfect, with Perfect holding onto the ring rope to avoid elimination; Heenan, Jimmy Hart, and Slick were ringside to cheer on their respective wrestlers (Best of Saturday Night's Main Event)
Prime Time Wrestling - 5/7/91: Bret Hart fought Ted Dibiase (w/ Sensational Sherri) to a double count-out at 9:56 when the two men began brawling in the aisle moments after Roddy Piper - who did guest commentary for the match - left the broadcast booth to chase Sherri backstage with a broom after she repeatedly interfered (Best of Saturday Night's Main Event)
Prime Time Wrestling - 4/30/91: The Mountie (w/ Jimmy Hart) pinned Tito Santana at 4:29 by shocking Santana in the chest with the shock stick, moments after Santana hit the flying forearm on Hart after Hart climbed in the ring
WWF @ Lubbock, TX - Municipal Coliseum - January 27, 1992
Saturday Night's Main Event #30 - 2/8/92 on FOX (8.2) - the first episode not to air on NBC; the first episode to run 1 hour instead of 90 minutes; featured Vince McMahon & Bobby Heenan on commentary; included footage from the final moments of the Royal Rumble in which Sid Justice eliminated Hulk Hogan, with Ric Flair then eliminating Justice; booing and chants of "Hogan" were edited into the clip to portray Hogan as more sympathetic; featured footage from the WrestleMania VIII press conference in which Justice stood up, believing himself to be the #1 contender, but Hogan was named to face Flair for the WWF World Title instead; moments later, Justice cut a heel promo on Hogan getting the title shot over him; included a promo by Justice in which he apologized to Hogan for his recent remarks; featured Sean Mooney conducting a backstage interview with Hogan & Justice regarding their upcoming match; as Mooney interviewed Hogan, Justice walked off; Hogan then said he would have a surprise in his corner; included Mooney conducting a backstage interview with Justice over why he walked out on Hogan, with Justice claiming WWF President Jack Tunney was showing favortism towards Hogan, Hogan couldn't beat Flair on his best day, and couldn't beat Sid on Sid's worst day; featured Gene Okerlund conducting a backstage interview with Hogan and Beefcake over Justice walking out of the match, during which Hogan said he would dedicate his title match at WrestleMania to Beefcake; included footage from Jake Roberts' attack on Randy Savage in November, with Roberts' snake biting Savage's arm, as well as Roberts slapping Miss Elizabeth at Tuesday in Texas; featured a promo by Roberts regarding his upcoming match with Savage, during which he implied he would slap Elizabeth again if she came ringside; included Okerlund conducting a backstage interview with Savage regarding his upcoming match with Roberts:
Prime Time Wrestling - 2/17/92: WWF IC Champion Roddy Piper pinned the Mountie (w/ Jimmy Hart) at around the 3:30 mark after shocking the challenger with his own shock stick; pre-match stipulations stated Bret Hart would face the champion at WrestleMania VIII; during the match, Hart cut an insert promo on facing the winner; late in the contest, the Mountie poured water on Piper and attempted to shock him but it had no affect; after the match, Piper took off his shirt to reveal a rubber vest underneath that read "Shock Proof"
Hulk Hogan (w/ Brutus Beefcake) & Sid Justice defeated WWF World Champion Ric Flair (w/ Mr. Perfect) & the Undertaker (w/ Paul Bearer) via disqualification at around the 11-minute mark when Flair shoved referee Earl Hebner as he and Taker double teamed Hogan; during the final moments of the match, Justice jumped off the apron and walked backstage as Hogan crawled toward the corner for the tag; after the contest, Beefcake got in the ring and faced off with Flair and Taker, risking his reconstructed face, until Hogan cleared the opposition from the ring and posed with Beefcake (Best of Saturday Night's Main Event)
Prime Time Wrestling - 2/24/92: Sgt. Slaughter & Jim Duggan (sub. for WWF Tag Team Champions the Legion of Doom) defeated the Beverly Brothers (w/ the Genius) when Slaughter pinned Blake at 2:39 after hitting Blake with the Genius' scroll and Duggan dropping Blake with the running clothesline; no reason was given for the LOD not appearing as scheduled and they were not mentioned during the telecast
WWF Superstars - 2/22/92: Randy Savage pinned Jake Roberts at 5:25 with the flying elbowsmash after hitting the double axe handle to the floor, causing Roberts to injure his throat on the steel barrier; after the bout, Savage went up for a second elbowsmash, with officials and referees trying to block him, and Savage jumping over them to hit it; moments later, Savage went out to the floor and grabbed the timekeeper's bell, with the officials blocking him from using it as Roberts escaped backstage; Miss Elizabeth then appeared and celebrated with Savage in the ring as Roberts was shown backstage watching on; in footage later shown on WWF Superstars, Roberts prepared to hit Elizabeth with a steel chair as she and Savage made their way backstage but was stopped by the Undertaker, who hit Roberts with the chair instead
WWF @ Terre Haute, IN - Hullman Center - October 27, 1992
Saturday Night's Main Event #31 - 11/14/92 on FOX (6.1) - featured a pre-taped introduction by Married with Children's Al Bundy; included Vince McMahon & Bobby Heenan on commentary; featured a music tribute to WWF World Champion Bret Hart to the tune of "Makin Some Noise" by Tom Petty & the Heartbreakers; included the Undertaker as a guest of the Funeral Parlour; the Shawn Michaels vs. WWF IC Champion Davey Boy Smith match replaced the scheduled yet never advertised Big Bossman vs. Ric Flair match due to Flair's ear injury (the last episode of SNME for 14 years):
Randy Savage & the Ultimate Warrior defeated WWF Tag Team Champions Ted Dibiase & IRS (w/ Jimmy Hart) via count-out when the champions walked out of the match; after the bout, the challengers caught up to the champions in the aisle and assaulted them until they were attacked from behind by Ric Flair, Razor Ramon, and Mr. Perfect
Survivor Series Showdown - 11/22/92: Shawn Michaels pinned WWF IC Champion Davey Boy Smith to win the title at 10:26 when the champion failed a superplex, with Michaels landing on top for the pin, after hitting his back against an exposed turnbuckle (Smith's last TV appearance for nearly 2 years) (Shawn Michaels: Heartbreak & Triumph, Best of Saturday Night's Main Event)
WWF World Champion Bret Hart defeated Papa Shango via submission with the Sharpshooter; after the bout, Shawn Michaels interrupted Hart's backstage interview conducted by Gene Okerlund and said that he would have both championships after Survivor Series
WWE @ Detroit, MI - Cobo Hall - March 18, 2006 (7,000; sell out)
Saturday Night's Main Event #32 - shown on a 1 hour tape delay at 8pm EST on NBC (3.1) - the return of the show after a 14-year absence; the return of the show to NBC after a 15-year absence; included an opening package with comments from Vince & Shane McMahon, Shawn Michaels, Triple H, WWE World Champion John Cena, John Bradshaw Layfield, & the Boogeyman; featured Jim Ross, Jerry Lawler, & Tazz on commentary (JR's return after a 5-month absence); included a backstage segment with Booker T & Sharmell in which they faked a knee injury to Booker to convince Teddy Long to cancel the scheduled Booker / Boogeyman match for later in the night; featured Mick Foley as a guest of The Cutting Edge in which Edge, with Lita, dared Foley to come out and then set fire to a table when he did; after the fire was put out, Foley gained control of an in-ring brawl and poured a bag full of thumbtacs in the ring but was thrown into them by Edge after distraction from Lita; Foley then ran up the ramp after Edge, hit a neckbreaker on the ramp, and then hit his own Con-Chair-Two; included a backstage segment where Booker & Sharmell were shown celebrating their night off until the Boogeyman's red light and music began playing in the lockerroom and the Boogeyman appeared hanging upside down, scaring Booker & Sharmell down the hallway and past Teddy Long and Carlito Caribbean Cool; featured an in-ring beer drinking contest between John Bradshaw Layfield and Steve Austin in which each man had 1 minute to drink as many beers as they could; after Austin caught JBL pouring the beer on his shirt to pretend he drank them, JBL threw a beer in Austin's face before going out to the floor and attempting to go backstage; moments later, WWE US Champion Chris Benoit ran out and threw JBL back inside the ring where Austin poured the remainder of the beer all over JBL and dropped him with the Stunner; included the announcement that Booker T would face the Boogeyman at WrestleMania; featured an in-ring promo by Mark Henry & Daivari regarding the upcoming casket match against the Undertaker at WrestleMania; moments later, the Undertaker appeared, accompanied by several druids who brought a casket to ringside, and won a brief brawl over Henry before dropping Daivari with the tombstone on top of the casket:
WWE World Champion John Cena & Triple H defeated World Heavyweight Champion Kurt Angle, Randy Orton, & Rey Mysterio Jr. at 11:40 when Cena pinned Orton with a roll up after avoiding the RKO; late in the bout, Triple H hit the Pedigree on his partner, leading to a brief brawl between the babyfaces and heels; after the bout, Cena, in the ring, and Triple H, on the floor, locked eyes
WWE Women's Champion Trish Stratus & Mickie James (sub. for Torrie Wilson) defeated Candice Michelle & Victoria at 2:40 when Trish pinned Victoria with the Stratusfaction; Mickie was never legally involved in the bout; after the match, Mickie grabbed the mic and said she wanted to say goodbye to Trish the right way, then shook her hand and attempted to kiss Trish on the lips but Trish turned her face so it wound up on her cheek; Trish shoved a hug away with Mickie then hitting her own Chick Kick and following with her own version of the Stratusfaction
Shane McMahon (w/ Vince McMahon) defeated Shawn Michaels in a streetfight at 16:42 when Vince called for the bell after Shane locked Michaels in the Sharpshooter; late in the bout, Shane accidentally knocked Vince out with the Van Terminator when Michaels moved out of the way and Michaels hit the superkick on Shane moments later but Vince dragged the referee to the floor and knocked him out (Best of Saturday Night's Main Event)
WWE @ Dallas, TX - American Airlines Center - July 15, 2006 (17,343; 14,500 paid; sell out)
Saturday Night's Main Event #33 - featured Jim Ross & Jerry Lawler on commentary for the Raw matches and Michael Cole & John Bradshaw Layfield covering the Smackdown! bouts; included an opening in-ring segment with Hulk Hogan and his daughter Brooke in which Brooke said it was an honor to stand inside the ring with her dad in front of the fans; moments later, Randy Orton interrupted, gave Brooke a rose, and then respectfully challenged Hogan to a match at Summer Slam; moments later, Hogan accepted and the two men shook hands before Orton left the ring; the camera picked up Orton winking at Brooke and Brooke seemingly liking it; featured a backstage segment in which Vince McMahon and the Spirit Squad discussed what they were going to do to Degeneration X later in the show, with Shawn Michaels & Triple H dubbing over their own dialogue to make it sound like Vince was asking the Squad to come by his hotel room after the show and spank him; included highlights of the earlier rounds of the Divas Bikini Bullriding contest and the announcement that Victoria would face Michelle McCool in the finals later in the show; featured footage of Kevin Von Erich being introduced to the crowd prior to the show going live; included a Sabu vignette highlighting his in-ring battles in WWE and ECW; featured an in-ring promo by Daivari & the Great Khali regarding Khali's upcoming Punjabi Prison Match with the Undertaker at the Great American Bash, with ECW World Champion the Big Show & Paul Heyman interrupting; moments later, Show said he and Khali would battle one day to determine who the one true giant was before he discussed how impressive Khali has been against the Undertaker; just then, the Undertaker's music played and Taker made his way to the ring; after clearing the ring of Khali, Taker brawled with Show and attempted a chokeslam before Khali came back inside the ring and, with the help of Show, hit a double chokeslam on Taker before leaving the ring; after the commercial break, Big Show said he would put his title on the line against the Undertaker the following Tuesday on ECW TV if Taker was up to the challenge; included Brooke Hogan's "About Us" music video, after a camera in the parking lot caught Brooke talking with Randy Orton; after the video was over, Hulk appeared and said he would see Orton at Summer Slam; after helping his daughter into the car, Hulk sustained the RKO from Orton onto the trunk of the car with Brooke not seeing what had happened; featured the finals of the bikini bullriding challenge in which Michelle McCool, 12 seconds, defeated Victoria, 6 seconds:
World Heavyweight Champion Rey Mysterio Jr., Batista, & Bobby Lashley defeated Booker T (w/ Sharmell & William Regal), WWE US Champion Finlay, & Mark Henry at 10:07 when Batista pinned Booker with the sit-down powerbomb after Booker sustained Mysterio's 619 (Batista's return TV match after a 7-month absence)
Carlito Caribbean Cool & Trish Stratus defeated WWE IC Champion Johnny Nitro & Melina at 2:36 when Carlito pinned Nitro with the Back Cracker after Trish and Melina began fighting on the floor
Triple H & Shawn Michaels defeated WWE Raw Tag Team Champions Kenny, Mitch, Mikey, Nicky, & Johnny in a non-title No DQ handicap elimination match at 8:52; Michaels pinned Mitch with the superkick at 1:28; Triple H pinned Johnny with a spinebuster at 4:13; Triple H pinned Mickey with the Pedigree at 7:32; Triple H pinned Nicky at 8:06 after Michaels hit the superkick; Triple H pinned Kenny with the Pedigree after Michaels hit the superkick; per pre-match stipulations, each person eliminated was locked in a cage at ringside; after the bout, Vince McMahon, who came ringside mid-way through the bout, knocked out the referee and stole the key to free the Spirit Squad from the cage; however, before the Squad could get out, Michaels superkicked Vince into the cage and locked the door with he and Triple H then climbing on top of the cage and posing (The New & Improved DX, Best of Saturday Night's Main Event)
Sabu pinned Stevie Richards in an Extreme Rules Match at 2:02 after coming off the top with a steel chair as Richards was laid across a table; after the bout, Sabu pulled what appeared to be a knife from his boot and went after Richards until the referee pulled him back, with Sabu then scaring the ref out of the ring with the weapon; Joey Styles & Tazz did commentary for the bout
John Cena defeated WWE World Champion Edge (w/ Lita) via disqualification at 7:54 when Lita punched referee Mike Chioda on the floor as the champion was caught in Cena's STFU inside the ring; because Edge was caught in a submission hold many believed the title had changed hands when Chioda called for the bell; after the bout, Edge hit the spear on Cena but Cena fought back moments later by hitting the champion with a TV monitor and hitting a FU from the top of the ring steps through the ECW commentary table to close the show (Best of Saturday Night's Main Event)
WWE @ Toronto, Ontario - Air Canada Centre - May 28, 2007 (14,000 paid; announced at 16,176; sell out)
Saturday Night's Main Event #34 - 6/2/07 on NBC - featured Michael Cole & Jerry Lawler on commentary; included Maria conducting a backstage interview with World Heavyweight Champion Edge, with Maria asking him whether he was the smallest or strangest - two of the three themes of the show - with Edge saying he was neither but instead the greatest; featured an in-ring performance by Extreme Expose in which they danced to Timbaland's "Throw it on Me;" as the song was playing, Little Boogeyman was shown chasing Hornswaggle backstage, past Cryme Tyme and Dusty Rhodes, until Finlay hit the taller Boogeyman with his shallalagh; moments later, Little Boogeyman chased Hornswaggle into the ring, interrupting the dancing, with Hornswaggle putting Brooke on his shoulders and Little Boogeyman putting Layla on his leading into a brief chicken fight until Little Boogeyman chased Hornswaggle backstage; included a closing music video recapping the night's matches to the tune of Puddle of Mudd's "Famous":
The Great Khali (w/ his interpreter) pinned WWE World Champion John Cena in a non-title match with the tree slam at 6:20; Ashley was the guest ring announcer for the bout; after the match, Khali grabbed the mic and cut a promo on Cena, with his interpreter saying Khali would beat Cena for the title at One Night Stand
Bobby Lashley defeated Mark Henry (w/ ECW World Champion Vince McMahon) (sub. for McMahon) via disqualification in an arm wrestling match when Henry attacked Lashley as Lashley was about to win; Kristal was the guest ring announcer for the contest; prior to the contest, McMahon said he didn't need to humiliate Lashley because he would do so at One Night Stand and then introduced Henry as his replacement; after the bout, Henry assaulted Lashley in the ring until Lashley fought back, hitting a spear before McMahon used the title belt to hit Lashley in the back of the head
Batista & Chris Benoit defeated World Heavyweight Champion Edge & WWE US Champion MVP at around the 10-minute mark when Benoit pinned MVP with the diving headbutt following a spinebuster from Batista, moments after Edge walked out of the match; Torrie Wilson was the guest ring announcer for the bout (the bout began during the commercial break)
Finlay & Hornswaggle defeated the Boogeyman & Little Boogeyman at 3:49 when Finlay pinned Little Boogeyman after kicking him in the face, moments after Boogeyman chased Hornswaggle up the aisle; Candice Michelle was the guest ring announcer for the bout
Kane, Eugene, & Doink the Clown defeated Umaga, Kevin Thorn, & Viscera at 10:55 when Kane pinned Viscera with a chokeslam; Michelle McCool was the guest ring announcer for the bout; advertising for the match was Kane, Goldust, Shannon Moore, & Kamala vs. Umaga, Viscera, Doink, & Thorn but Goldust backed out a few days before the taping
WWE @ New York City, NY - Madison Square Garden - August 13, 2007 (sell out; announced as 16,827)
Saturday Night's Main Event #35 - 8/18/07 - featured an opening backstage segment with Vince McMahon and Jonathan Coachman in which Coachman said he has cross referenced all the WWE superstars and is confident he could name the identity of McMahon's child later in the show; included Michael Cole, Jim Ross, & John Bradshaw Layfield on commentary; featured a backstage segment where McMahon saw an early 80s version of himself in the mirror; moments later, Ron Simmons walked over to the mirror, stared at it, and said "Damn;" included a vignette promoting the return of Triple H at Summer Slam; featured WWE US Champion MVP backstage with Evander Holyfield and his entourage talking about Holyfield's fight with Matt Hardy later in the show; included an in-ring segment with McMahon and Coachman regarding McMahon's mystery child in which Coachman introduced Eugene as the man he believed to be McMahon's son, then Melina who he thought to be McMahon's daughter, with Melina saying she would take McMahon for every cent that he has if it turns out she is his daughter; moments later, Coachman brought out a third option, Steve Austin; Austin then talked about McMahon possibly being his father and all the things he missed out on growing up without McMahon and then said he wanted to help McMahon control his "overactive grapefruits" and then kicked and punch McMahon in the groin before dropping Coachman with the Stunner; moments later, as McMahon struggled to his feet, Austin offered McMahon a beer to celebrate Austin's return to Madison Square Garden; as McMahon went to drink it, Austin dropped him with the Stunner; featured backstage footage of MVP hyping Holyfield up for his fight against Hardy later in the show; included a closing music video highlighting the night's events:
Batista & Kane defeated World Heavyweight Champion the Great Khali (w/ Runjin Singh) & Finlay at 8:25 when Batista pinned Finlay with the spear and sit-down powerbomb, despite interference from WWE Cruiserweight Champion Hornswaggle, after Batista & Kane hit Khali with a double chokeslam
WWE World Champion John Cena defeated Carlito Caribbean Cool via submission with the STFU in a non-title match at 5:37; after the bout, Randy Orton attacked Cena, throwing him into the steel ringsteps, and dropping Cena with an RKO onto a steel chair set up at ringside; the crowd chanted back and forth "Randy Orton" and "Sucks" as Orton stood over Cena's body; after the commercial break, Todd Grisham conducted a backstage interview with Orton regarding the attack and Orton's upcoming match against Cena at Summer Slam
Evander Holyfield (w/ WWE US Champion MVP) fought Matt Hardy to a no contest in a boxing fight at the 44-second mark of Round 2 when Holyfield knocked out MVP with a punch after MVP repeatedly tried to tell Holyfield what to do in the fight and climbed into the ring; Michael Buffer was the guest ring announcer for the bout
CM Punk & the Boogeyman defeated ECW World Champion John Morrison & Big Daddy V (w/ Matt Striker) at 6:40 when Punk pinned Morrison with an inside cradle; Tazz did guest commentary for the bout
WWE @ Washington DC - Verizon Center - July 28, 2008 (14,722; 12,000 paid; sell out)
Saturday Night's Main Event #36 - 8/2 - one-hour episode - featured pre-taped comments throughout the show from Ben Stiller, Jeff Foxworthy, and Carmen Elektra; included an in-ring promo by Jenny McCarthy about Autism:
Kane, John Bradshaw Layfield, WWE Raw Tag Team Champions Cody Rhodes & Ted Dibiase Jr. defeated John Cena, Batista, & Cryme Tyme when JBL pinned JTG with the Clothesline from Hell
The Great Khali pinned Jimmy Wang Yang
Edge pinned Jeff Hardy with the spear after MVP interfered and kicked Hardy in the head